Sorry! I have been totally MIA recently with regards to blogging. I have a dozen excuses: summer, actual sunshine outside, lots of climbing, even more writing, laziness, reading great books… and it's because of that last one that I need to tell you all about a book I recently read that's still got me thinking weeks after turning the last page…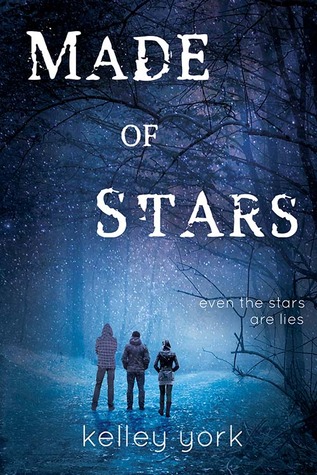 When eighteen-year-old Hunter Jackson and his half sister, Ashlin, return to their dad's for the first winter in years, they expect everything to be just like the warmer months they'd spent there as kids. And it is—at first. But Chance, the charismatic and adventurous boy who made their summers epic, is harboring deep secrets. Secrets that are quickly spiraling into something else entirely.
The reason they've never met Chance's parents or seen his home is becoming clearer. And what the siblings used to think of as Chance's quirks—the outrageous stories, his clinginess, his dangerous impulsiveness—are now warning signs that something is seriously off. 
Then Chance's mom turns up with a bullet to the head, and all eyes shift to Chance and his dad. Hunter and Ashlin know Chance is innocent…they just have to prove it. But how can they protect the boy they both love when they can't trust a word Chance says?
*Warning: there may be mild spoilers ahead*
Considering I don't often read contemporary YA, when I do, it has to be something special and Made of Stars is that and so much more. I've been dying to read this book since I first heard it was getting published. Then I saw that cover and for the first time, had a hard time waiting on a contemporary read. I only regret it actually took me this long to read this book, but man am I glad I did!
This book sunk its hooks into me from the very first page and didn't let ago until the very last word. I loved this book because I loved the characters. Hunter, Chance and Ashlin – each one of them resonated with me for different reasons and I absolutely loved the less conventional yet unassuming love story between these three characters. The growing relationship between Hunter and Chance was handled beautifully and something Hunter said echoed sentiments expressed by Ianto toward Capt. Jack in Torchwood (that Made of Stars could make me think of one of my favourite series and favourite characters of all time just made me squee even harder!)
Let's talk about Chance: charismatic, troubled, gorgeous, tattooed. Yeah, total dreamboat this one with just enough badassery and vulnerability to make him irresistible. The connection between the title of this book, that tagline and Chance is perfect and subtle and brilliant. You'll have to read the book to figure it out for yourself though 😉
The ending of this novel is most definitely unsatisfying, not because it didn't end exactly the way it needed to, but because there is so much story left to tell! Hunter, Chance and Ashlin had only just begun their journey and I would have happily read double the number of words to follow these three through the coming travails the ending suggests. I do sincerely hope the author considers writing a sequel, or at least a novella from Chance's point of view. This character is so colourful, he deserves a novel to himself.
This book left me reeling days after I turned the last page, affecting me in a way a story hasn't since Charm & Strange and The Gospel of Winter. While the themes in Made of Stars are a little different, (different types of abuse and psychological affects) the style and emotional gut-wrenching delivered in these pages is exquisitely and agonizingly similar. Go get this book now! Actually, get all three and read them right away!
Have you read Made of Stars? What book has touched you recently?