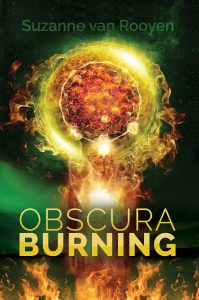 Finalist in the Teen/YA category of the 2017 Bisexual Book Awards
The world's going to end in fire…and it's all Kyle's fault.
Kyle Wolfe's world is about to crash and burn. Just weeks away from graduation, a fire kills Kyle's two best friends and leaves him permanently scarred. A fire that Kyle accidentally set the night he cheated on his boyfriend Danny with their female friend, Shira. That same day, a strange new planet, Obscura, appears in the sky. And suddenly Kyle's friends aren't all that dead anymore.
Each time Kyle goes to sleep, he awakens to two different realities. In one, his boyfriend Danny is still alive, but Shira is dead. In the other, it's Shira who's alive…and now they're friends with benefits. Shifting between realities is slowly killing him, and he's not the only one dying. The world is dying with him. He's pretty sure Obscura has something to do with it, but with his parents' marriage imploding and realities shifting each time he closes his eyes, Kyle has problems enough without being the one in charge of saving the world…
Read more about the inspiration behind this book here and here.
What readers had to say:
Obscura Burning is both moving and intellectually stimulating. A fantastic, thought-provoking and mind-boggling story, executed with skill and honesty!

"Obscura Burning" is an intriguing novel…

This book was unlike any other YA book I've read.

[Suzanne] writes descriptive prose like a dream, naturally, with charisma, with ease, and with a remarkable lack of self consciousness.

The details are immaculately researched and more accurate than most fiction I've seen set in New Mexico.

The author has a gift for expressing complex human nature with a simple style of writing.

This book does the perfect job of balancing love, friendship, self-identity, and, GAH! EVERYTHING! Just magnificent!