This past week I was back in my home country of South Africa. While visiting family, I managed to sneak in a few promo events too.
A huge thank you to Michelle du Plessis of Hay House South Africa and Germaine de Larch of CtrlAltGender for inviting me to speak at the weekly CtrlAltGender meeting at Wits University. It was an absolute honour being the guest speaker and a moving, humbling, liberating experience getting to share the story behind my book The Other Me with so many beautiful, kind and compassionate souls.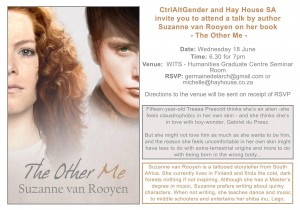 Later in the week, I returned to my high school where I spent an exuberant morning with teen age girls discussing the creative process as well as the hotness that is Four. There are undoubtedly quite a few photos of me with high school girls celebrating pyjama day on Instagram now.
Next up, I'll be at FinnCon in Jyväskylä, Finland on Sunday July 14 on both the foreigners writing in Finland and the LGBT in SF/F panel. I am so excited to be sharing the stage with Cheryl Morgan for the LGBT panel!
And then I'm off to LonCon3 in August where I'll be on two panels again, one discussing the cultural impact of immigration on SF/F and the other on the trouble with writing for teenagers. I am so excited and I hope to see you there!