Yes, I'm a day behind on the A-Z Challenge but I just couldn't force the blog posts I had lined up for yesterday to fit S. Today's post does however, so I'll just have to catch up T later.
Now onto today's post…
I'm pleased to welcome Kia Zi Shiru back to Off the Page chatting about the music behind her Black Sheep trilogy.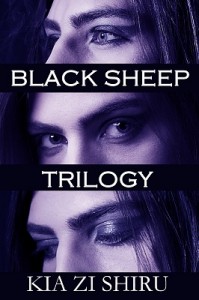 All the Black Sheep Trilogy books in one collection.
Black Sheep Trilogy is a Young Adult title that deals with heavy subjects but has little cursing and no sex
Black Sheep follows Vic, his sister Anne, his best friend Adam and his new boyfriend Jack as they are learning to deal with Vic's past and illness while at the same time dealing with their own lives.
Black Sheep: Letting go of the Past
Vic is struggling to begin a relationship with Jack while at the same time he is is trying to overcome the trauma of the year before. Jack knows something is wrong but can't get Vic to open up about what happened, no matter how hard he tries.
Black Sheep: Loving in the Present
Vic seems to be overcoming another bout of depression but as he seems to be getting better the lives of the people around him are turning worse. After a clash with Adam Vic seeks help in a place he shouldn't, unknowingly putting Jack at risk.
Black Sheep: Fighting for a Future
Vic's bad streak doesn't seem to be ending soon and everybody has to deal with losses of their own. Until the doctor gives Vic the worst news of all, he is dying. This finally jars Vic into action, he wants to make all his loved ones happy before that happens.
But time is running out quickly and he isn't sure he will be able to reach his goal.
Take it away Kia… 
Thanks for having me here Suzanne. So, today I'm talking about the soundtrack to Black Sheep.
Black Sheep has been greatly influenced by two bands though both at slightly different times. The first book has been mostly influenced by Linkin Park's first and third CD, Hybrid Theory and Meteora. Both the CD's are dark, often rough and angry. Emotions that worked well with the story. The second and third book have been equally influenced by Linkin Park and Sentenced, a Finnish metal band.
Sentenced is a lot rougher than Linkin Park, their songs darker but their music itself isn't as dark as the Linkin Park songs. The best example I can give of this is Vengeance is Mine by Sentenced, in comparison with Linkin Park's By Myself.
One of the biggest differences in types of songs between the two bands is with two of my favourite songs, both about self-harming and depression, I know, morbid.
Sentenced – Bleed, which is evocative and creepy but the song itself keeps a quick pace, not dwelling but rather bringing out the lyrics in a way that isn't melodramatic.
The other song I would choose would be Linkin Park – Breaking the Habit Which is a lot more dramatic and tells a fuller story instead of bringing over an emotion. The background sound keeps the mood low even with the quick beat.
Sentenced is worth a listen if you like more morbid and quick paced songs (most of them are like that).
These bands influenced Vic's voice quite a lot through the time, sometimes I would just blast one song through my headset the whole time I was writing a chapter. Though now looking back I don't know which songs belong with which chapters any more.
On a lighter note, Jack's music was different, how different? They were the Vengaboys, Aqua and Toybox. Yes, weird 90s summer bands. I think it largely shows that for me Jack has always been a happy person. He shared this music list with Anne most of the time because I do think they're quite alike in personality.
Then we have Adam… Yeah… His music is a bit more eclectic, bands like Suicide Commando, E-nomine and Grendel were the things I listened to as I wrote or planned his chapters. Here are a few examples:
Suicide Commando     E-nomine    Grendel
They are all electronic or industrial bands with a knack for morbid songs.
Where Vic and Jack are both more metal gothic, Adam to me has always been industrial gothic. His weird colourful hair, tight shirts (and fishnet) and tight jeans. I always imagine him dancing when he isn't doing anything useful.
So yeah, a lot of the music I used for Black Sheep is slightly weird, but I think this fits a story like Black Sheep very well. Especially since all the characters are so different from each other.
Kia Zi Shiru is a Dutch girl studying English and Creative Writing in the UK.
Amongst her interests she finds writing, reading, doing research and learning different languages (including but not limited to: English, Dutch, French, German, HTML, Java, PHP and Assembly). Her writing and reading habits include books with Young Adults, gay themes, strong female or minority characters and fantasy
elements (more often than not all at the same time).
You can find her:
Website   Twitter   Facebook
And if you want to keep up to date you can sign up for her newsletter here.