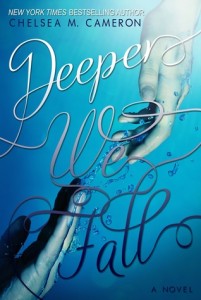 Title: Deeper We Fall
Author: Chelsea Cameron
Publisher: DRC Publishing
Genre: New Adult romance
Blurb: Two years after her best friend was involved in a car accident that caused a traumatic brain injury, Lottie Anders is ready to start her freshman year of college. Ready to move on. Ready to start forgetting the night that ripped her life apart.
Her plans come to a screeching halt when not one, but both brothers responsible for the accident end up back in her life again.
Zack is cruel, selfish and constantly rubbing what happened to her friend in Lottie's face. 
Zan is different. He listens to her awkward ramblings. He loves "To Kill a Mockingbird" as much as she does, and his dark eyes are irresistible. His words are few and far between, but when he does speak, she can't help but listen. 
The trouble is, Zan was the driver in the accident, and now Lottie's discovered he lied to her about what happened that night. Now she must decide if trusting him again will lead to real forgiveness, or deeper heartache.
*I received this book to review as part of an Xpresso Reads blog tour.
My Review:
I'm not the biggest fan of romance but I really wanted to read a new adult book and the cover for this one caught my attention. Reading this novel has been a bit of a rollercoaster.
There were some lines in this book that just took my breath away either because of how strong the imagery was or because of the human insight they provided. The book is peppered with these little gems and I loved that about this book. Sadly, that's about all I truly loved about Deeper We Fall.
The book is also peppered with grammar errors and typos. Some are less noticeable while others are clearly the result of less than stellar editing. These errors were distracting and annoying and definitely detracted from the emotional impact of certain scenes.
The characters. There's quite a large cast in this novel and all the characters are fairly different but their eccentricities seem glossed over without the characters being fully allowed to develop into unique individuals. I would have liked to see more in-depth character development in general. I think this novel could have done with less plot and more introspection.
Zan – the leading man. I started really liking this troubled young man with self-destructive tendencies but he devolved into a bit of a sap towards the end and some of his dialogue just irritated me especially his over use of 'pretty girl.' He was definitely the most interesting character and I wanted more from him. Although we do get the story from his perspective, I think the author could have dug a little deeper with him and mined more poignancy. It feels like this book barely scratched the surface of his character. Book dedicated to Zan please!
Lottie – the leading lady. This girl drove me crazy. She's self-righteous, opinionated and strong-willed and then she does a complete 180. I wasn't quite convinced about the romance here, which was the core of the story. While I did appreciate her loyalty to her friends and her wanting to be supportive, I couldn't always get behind her choices.
Despite this story being Lottie and Zan's, I couldn't help feeling more drawn to Katie and Stryker, so perhaps I'll enjoy Faster We Burn a lot more.
The romance – perhaps my opinion here is simply because I'm not a romance fan, or perhaps I'm just jaded, but I'm not sold on the idea of a monumental, all consuming, passionate, world changing, life altering love at all of 17. While some of the scenes were sweet, there were times the romance and subsequent dialogue just became far too saccharine. With a character like Zan, I expected more of a love-hate passionate whirlwind but I got roses and hand-holding.
Last gripe – although these kids are technically in college, this felt very much like a YA novel with added swearing and sex. I'm still not convinced I truly understand where to draw the line between the two categories, and this book further blurred the distinction for me. Personally, I'm just not comfortable reading explicit sex scenes featuring 17 year olds.
Absolutely last gripe – the ending. What? I turned the page without even realising the story was over. I thought I had a bum copy but nope. Considering the lead up was pretty powerful and dramatic, I expected a more dramatic finish and didn't get it.
Bonus points – Zan listens to Imagine Dragons – one of my favourite bands. That made me smile 🙂
Final consensus – While parts of this book annoyed, frustrated and angered me, I couldn't put it down. While I wasn't all that invested in Lottie, I was rooting for Zan the whole time and wanted to see how life would turn out for him. Perhaps if this whole book had been narrated from Zan's perspective, I would've enjoyed it more. As it stands, I know this book will appeal to fans of upper YA/NA romance and that many people will love it. It gets three ink splats from me.