Today I'm pleased to welcome YA/NA author ST Bende to Off the Page, and she's brought to very special guests with her: Ull and Inga, two of the Norse gods starring in her new fantasy book Elsker. But before we meet the gods, let's get to know the author.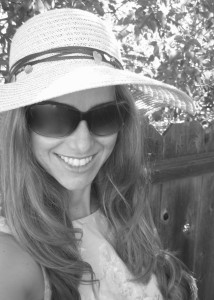 Before finding domestic bliss in suburbia, ST Bende lived in Manhattan Beach (became overly fond of Peet's Coffee) and Europe… where she became overly fond of the musical Cats. Her love of Scandinavian culture and a very patient Norwegian teacher inspired the ELSKER series. She hopes her characters make you smile and that one day pastries will be considered a health food.
Blog   Goodreads   Twitter   Pinterest
And now let's meet the characters…
Thanks so much for having us today, Suzanne. I've brought Inga and Ull with me, two of the Norse gods from my debut series, THE ELSKER SAGA. ELSKER follows twenty-year-old Kristia Tostenson as she leaves her small town for Cardiff University in Wales. She gets a lot more than she bargained for when she falls in love with Ull Myhr. He's not just a graduate student — he's an Asgardian Assassin and the Norse God of Winter. And he makes Kristia's orderly life seriously complicated. 
Ull flat out refused to let me interview him. But apparently he owes his best friend Inga a favor, so he's going to let her ask him a few questions. Go ahead, guys.
INGA: Thanks, ST. Hi, Ull. *waggles her fingers*
ULL: Just get it over with Inga.
INGA: Jeez. Somebody didn't get his Norsk waffles this morning.
ULL: I mean it Inga. You have five minutes.
INGA: Okay, okay. So I really get to ask you anything?
ULL: No. Stick to ST's questions.
INGA: Oh, all right. You are no fun this early in the day.
ULL: Four and a half minutes.
INGA: Oh, Great Odin. Fine. Ull Myhr, if you were an animal, what animal would you be?
ULL: Seriously? *turns to ST* That is what you want to know?
ST: Among other things.
ULL: Fine, a shark.
INGA: Why on Midgard would you pick that clichéd creature?
ULL: Because I know it's the one animal ST is absolutely terrified of, and it was a dumb question.
INGA: Moving on. What's playing on your iPod?
ULL: Seriously? These are your questions? *ST shrugs* Right now I am enjoying Imagine Dragons.
INGA: Ooh, I like them. Which song's your favorite?
ULL: Demons.
INGA: Typical. Who's your favorite IndyCar driver?
ULL: I do not follow it like you do. But that JR Hildebrand kid seems dignified.
INGA: Not Helio?
ULL: Too flashy.
INGA: Whatever. Ready for the heavy stuff?
ULL: Hit me.
INGA: How would Kristia describe you?
ULL: She would say that I am charming.
INGA: Ull, be honest…
ULL: Charming. And stubborn. Possibly bossy. Hopefully thoughtful. And most likely, irritating.
INGA: What's your biggest fear?
ULL: Inga…
INGA: You promised to answer. I have one minute left.
ULL: Losing the people I love. You know that.
INGA: What do you want most in life?
ULL: *mutters*
INGA: What was that?
ULL: I said a family. Next question.
INGA: It's an easy one. What's your favorite food?
ULL: Oh. *smiles* Olaug's Norwegian waffles.
ST: And y'all will be happy to know I've included Olaug's recipe at the end of ELSKER. Thanks Ull, Inga. I appreciate the interview. And thanks Suzanne, for letting us stop by the blog!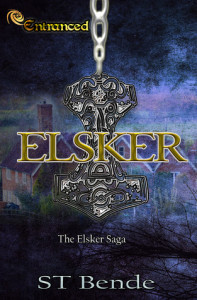 Kristia Tostenson prefers Earl Grey to Grey Goose and book clubs to nightclubs, but when she transfers from her one-stoplight town to Cardiff University in Wales she falls in love with Ull Myhr. Her new boyfriend isn't exactly what she was expecting. He's an honest-to-goodness Norse God — an immortal assassin fated to die at Ragnarok, the battle destined to destroy Asgard and Earth. Kristia's crazy visions are the only thing that can save their realms.
Her orderly life just got very messy.
ELSKER releases April 22, but you can get in on all the action by heading over to ST Bende's blog for not one but four giveaways!