If you loved the New Adult novel Deeper We Fall by Chelsea M. Cameron then I bet you can't wait for book number two. Today I have the privilege  of revealing the cover for Faster We Burn.
*Drumroll*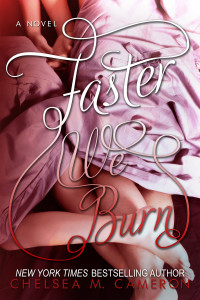 The last thing Katie Hallman needs is another guy in her life, but Stryker Grant is there anyway. What starts out as just an escape from her previous relationship disaster soon turns into something more. Stryker gets under her skin the way no one has before, and soon she realizes she can't shake him, even if she wanted to. But is Katie ready to trust her already-battered heart to the guy who could shatter it into a million pieces?
Faster We Burn is scheduled for release in April. What will you be reading until then?