This summer I had the privilege of attending two amazing science fiction and fantasy conventions, not only as a fan, but as a panelist. The first was FinnCon held in June in my university town of Jyväskylä. The second was WorldCon held in London just last week. Both cons were great in different ways and here's why…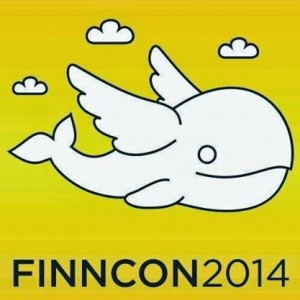 I attended my first FinnCon back in 2010 and thoroughly enjoyed the panels as a then aspiring writer new to the world of publishing. Last year I attended purely as a fan to listen to panels on YA lit and check out cosplayers dressed as Daenerys. Earlier this year when I met some terrific people via my local library (libraries for the win!) I made the necessary contacts and was able to attend FinnCon as a panelist. Not only would I be on a panel, but I'd be on a panel with Cheryl Morgan, the major award winning uber critic and SF/F editor. I was thrilled and terrified in equal measure.
FinnCon was an awesome experience. Not only did I get to have lunch with Cheryl Morgan – who is lovely and down to earth and not nearly as intimidating as I initially feared – but I also got to be on a panel concerning LGBT characters in SF/F. That panel was full, with more people desperate to get in and being turned away. That alone was awesome to see! I also got to meet several other foreign authors living and writing in Finland, some of whom I am now happy to call friends, so that was a huge win. I only managed to attend a single day of the FinnCon event, but it was one of the best days of my summer.
Fast forward to LonCon3 – a huge event which culminates in the Hugo awards. I'd never been to a WorldCon before so I didn't know quite what to expect, except that there would be many, many people there. Aside from the rush of being in London for the very first time, I was also hyperventilating with nerves knowing I'd be on two panels at WorldCon – the first all about writing for teens with Amy McCulloch and Janet Edwards, and the other about SF/F across borders with Glenda Larken and Yen Ooi amongst others.
Highlights from my two days spent at LonCon (the others ended up being tourist days in which I tootled around London in search of the best pie and chips, taking photos of landmarks along the way) include meeting Marieke Nijkamp (who is on the board of We Need Diverse Books and owner of the DiversfYA blog) and Laura Lam (author of Pantomime) in person! Befriending someone in the twitterverse is lovely, but meeting these people face to face was particularly wonderful. I also had lunch and chats with Marieke and Sarah Benwell (author of The Last Leaves Falling), which pretty much made my day.
Of all the many great experiences at LonCon3, one thing I noticed and really appreciated was the awareness and non-binary terminology being used by most people, which I especially appreciated from my moderator, Julia Rios, in the teen panel, which didn't have anything specifically to do with diversity. The fact that more and more people are becoming aware and accepting of non-binary gender identity feels like a huge win and I have never felt so comfortable in my skin.
This, was however, in stark contrast to my experience at the queer girls fan event, which I attended in the fan village. The presumption here seemed to be that I was a lesbian (although the event was advertised as a safe, happy zone for self-identified women and genderqueer people) and I was unfortunately squished into a conversation reeking of man-hate. Not cool, especially in an environment that should've been more open to different identities. Proof once more that there, however  ironically, seems to be a heck of a lot more tolerance for non-binary gender identities outside of the LGBT community. But I wasn't going to let that one bad experience ruin my LonCon.
I learned so much from this experience, about the academic world behind SF/F fandom and about the various fandoms themselves, I got to meet amazing authors and amazing fans, I got feedback from some incredibly articulate and intelligent teen readers, I joined discussions about diversity and trends in SF/F, and overall had a ball with all the amazing people in attendance.
My next con event will mostly likely be Archipelacon next June in Åland (a bunch of pretty islands between Finland and Sweden) where George R R Martin will be one of the guests of honour. Stay tuned for news about that!
Wow, what a summer! And now it's back to work and back to writing, where I hope to apply at least a little of what I've learned.