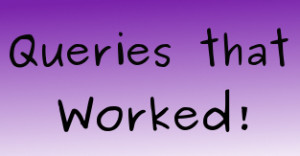 Today I'm pleased to welcome another agency sister, Coleen Burright to Off the Page, sharing the query that landed her an agent.
Just a quick reminder about this feature…
All these featured queries worked! Meaning they snagged the attention of an agent or editor. These books are now represented or published, or both.
These queries are not perfect. They don't have to be. This is to show aspiring authors the kind of query that works despite imperfections.
These authors aren't looking for critique on their queries since these books are already represented or published, but have kindly agreed to allow me to showcase these queries to help other authors currently playing the query game.
You are of course welcome to comment on all the queries!
CJ blames her love for reading and all things Medieval on her father, who plied her often with fantasy novels ranging from Sir Lloyd Alexander to Piers Anthony.  Her love for romance, however, lies completely at the feet of her best friend Michelle, who dared to give her a romance novel for her birthday.  She smiled, politely said thank you, and tossed it in the corner, where it gathered dust.  In a moment of desperation, when only the revolting romance remained in her almost-always toppling stack of awaiting books, she sucked it up and read the romance.  Doomed.
She started writing fantasy and paranormal romance for the cathartic experience, decided she liked it, and after two overlong, horribly written novels joined RWA and the Fantasy, Futuristic & Paranormal special interest chapter.  Best classes and critique groups ever.  Double doomed.  Now, writing is a necessity, not just a hobby.
In her spare time, when she's not writing or reading or actually working, CJ might be found in the dojang (4th Dan Black Belt, baby), rooting on the Mariners (who will some day win the World Series), working out (P90X, anyone?), gardening (a little dirt never hurt anyone), or playing Music of the Night on the piano (without mask or cape). She lives in Oregon with her fabulous husband and daughter. Not to mention her minions, a herd of cats.
www.cjburright.com * Facebook * Twitter * Burright's Blog * Goodreads

And now for the query…
Dear Ms. Booker:

Kalila Montgomery's nightmares come to life while she sleeps.  But the sexy assassin stalking her in broad daylight scares her more than any monster.

Wonderfully Wicked is a paranormal romance with an urban fantasy slant, complete at 101,300.

Kalila dreams of a peaceful, picket-fence life, an iffy prospect for a girl who wields creatures from her nightmares and suffers nasty visions of her future. When the killer who haunts her visions pops up in her bedroom, her puny hope for an ordinary life fizzles.  Until he dangles a cure for her nightmares and a shot at normal.  Trusting him is no-go, but she can't resist the risk.

A deadly combination of power, cunning, and cold-hearted charm, Lydon v'al Endrian fears nothing.  Feels nothing.  Chained to a brotherhood of men with the ability to invade dreams, he has one mission:  hunt dreamcasters, harvest their dreams, and purge them from the world.  But Kalila awakens a protective instinct, forbidden desire, and hunger for a freedom long-lost.  To gain everything he craves, he must convince Kalila to trust him and betray his master—a death-sentence if he fails.

In a dangerous world of secrets and obsession, doubt and betrayal, Kalila and Lydon face the nightmare of their lives.  The love neither expected to find will either deliver or destroy them both.

In my novels, expect to find heroines who kick butt.  Literally.  As I'm a 4th Dan black belt in Tae Kwon Do, creating a wimpy protagonist just seems wrong.  I'm a member of RWA, including the Fantasy, Futuristic & Paranormal Chapter. WONDERFULLY WICKED is my third paranormal romance and works as either a stand alone or the beginning of a series.  My short story entitled The Final Spark was published last year in Spells:  Ten Tales of Magic.

As per your submission guidelines, the first ten pages and synopsis follow.  I look forward to hearing from you.
So what do you think? 
If you have a query that worked and would like to share it with others, please feel free to email me at the address listed on the Contact Me page.