Today I'm pleased to welcome Off the Page regular, Kia Zi Shiru talking about the music that inspired her new book DISTURBED CONNECTIONS.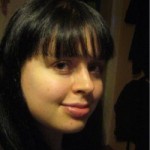 Kia Zi Shiru is a Dutch girl who did her bachelor studying English and Creative Writing in the UK but has now returned to the Netherlands to do her masters. Amongst her interests she finds writing, reading, doing research and learning different languages (including but not limited to: English, Dutch, French, German, HTML, Java, PHP and Assembly). Her writing and reading habits include books with Young Adults, gay themes, strong female or minority characters and fantasy elements (more often than not all at the same time).
You can find her:
Website   Twitter   Facebook
And if you want to keep up to date you can sign up for her newsletter here
Over to Kia…
Hi people, I'm back for another round of "What sort of weird music did Kia listen to while writing crazy stuff?". Or, well, you know, I'll show you some awesome songs that I listened to while writing. I did this before with my Black Sheep Trilogy, in which I showed you some cool western bands that I listened to. This time our ears go to the east, Japan to be precise.
For Otherkin Spirits my inspiration came from Visual Kei music. Visual Kei is a clothing and music style in Asia and most specifically Japan in the same way as gothic is in the west. Their style is over the top, their outfits extravagant and they have a strong tendency for fanservice (thought that may be just the bands I love). Visual Kei is a genre that was popular during the early and mid 90s, with bands like Malice Mizer, in which you can see the shared roots of gothic and Visual Kei very easily. Though the music that influenced me is in a way second wave Visual Kei, these are bands that are formed after 2000 when a new group of Visual Kei emerged, with more daring outfits and more up-to-date music genres.
Though none of the stories are immediately influenced by the music and don't carry any real themes across the two, the beat of the music and the way the instruments and voice were used got me writing a lot of words.
So, without further ado, the first band that got me interested in Visual Kei was Kiryu (??) , they are a Japanese metal band. When I say Japanese metal I mean it, they combine metal music with typical Japanese instruments and (horror) themes. Here is the song that got me interested:
Kiryu – Mugen houyou
(This is one with English subtitles so you can see what I mean with the combination of metal music and Japanese horror themes)
I still love that song. What I also really like about them is how many of their outfits are based on kimonos and yukata and each in their distinct colour scheme with which I meant that each member of the band has their own colour and their outfits are based on this colour. Which of course makes finding each member in the videoclip or on stage easier.
In November 2012 (which is the month I wrote Disturbed Connections) this song came out:
Kiryu – Tomoshibi
For me Kiryu was great to listen to while writing "dark" scenes, the vocalist really has a way to pull me in when I listen to them.
Okay, time for these guys' "baby brothers", aka Royz. They aren't related but Royz is signed by the same label as Kiryu and they are about 5 to 10 years younger than the Kiryu members, plus they played supporting program for Kiryu when Royz just started out. The two bands still often get together and even now sometimes band together for concerts. That is how I got to know them, but that isn't why I love them. I love them because they have upbeat songs, their music is distinct (and even more so now they've grown a couple of years) and because their incorporate more electric sounds into their music.
Here is the first song by them that I saw and I loved them immediately:
Royz
The eyecandy didn't hurt of course. Their guitarist with purple hair and piercings (right side of the screen) is sexy and has a smile to die for. Their bassist, the guy with red hair (left side in the back next to the drummer), is sexy and cute and totally huggable.
The song that I listened to during writing Disturbed Connections most by them was Innocence, they had just released that at the end of October.
Royz – Innocence
The song stepped away from their lighter songs and was darker than what they had released before. Since this song their releases go between lighter sounding and darker sounding songs while maintaining a distinct sound that was definitely "them".
The next band didn't technically exist in November 2012, they disbanded in October 2012. That doesn't mean that I didn't listen to them a lot. Paradeis is a band that is a bit more on the unique side of Visual Kei, their outfits and style going between dark and distinctly happy. Mashiro, the vocalist is definitely a man, even if his looks make it seems differently.
My favourite song by them is one of their darker songs, lovely and haunting, I used to run this on repeat for a couple of times right before starting writing to get into a darker mood.
Paradeis – Onigokko
You've got to admit, those fangs are adorable and so is the outfit. I love the way this song is slow and haunting.
Just to show how different some of their songs are, this is probably the most upbeat song they have and is also the first song I heard by them.
Paradeis  – Lolli Lollipop
Cute, upbeat, funny. Their songs always make me happy, no matter what I listen to.
Okay, last band. This is a band that I didn't really like the videoclip versions of the songs of, it didn't stick with me as much as the previous bands did. Until I saw videos of their live concerts and fell in love with the way he performs songs. I'm, of course, talking about Acid Black Cherry. If you see him perform you can see the energy, just watch:
Acid Black Cherry – Rakuen
And it's not just the vocalist, the whole band is like that. Their videoclips are unique because of their dressing up and crossdressing. They are so silly, check out the videoclip where they play their own fangirls, including fainting after a kiss from the vocalist (technically he is kissing his own hand…):
Acid Black Cherry – 20th century boys
They don't take themselves very seriously and that makes their videoclips all the much more fun to watch.
Of course, as I talked about fanservice in the beginning of the post and I can't show my #1 fav videoclip by them since youtube doesn't have the full version of it, here is one of the reasons to watch their live concerts:
Acid Black Cherry – 20th century boys Live
That is it, there are a lot more bands, but these are the ones that I listen to most of the time because of their personalities and unique sounds. Do you know any of these or did you expect these?
Thanks for having me over, Suzanne. I love sharing these kind of things.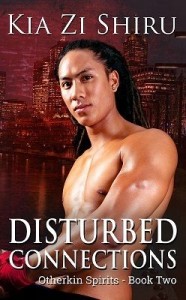 A werewolf and a vampire, forbidden love. What could go wrong?
CHRIS, a werewolf on the run from his abusive clan, hides in a vampire house. ALEC, a
vampire who has comfortably lived in the house for years, has no intentions to ever leave it.
Their connection is obvious from the first time they meet. But the house rules are strict,
werewolves and vampires can not date. Unable to fight their attraction and unwilling to leave,
they instead choose to hide their love.
Then Chris' old clan finds him and takes him back. Will Alec ever see Chris again?
What do you think of this musical selection? Will you be reading Disturbed Connections?