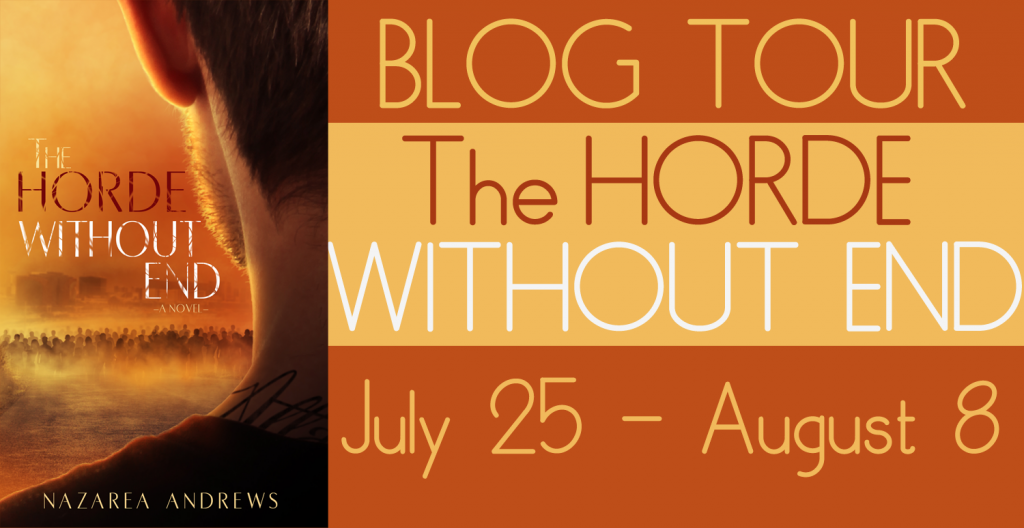 Today, I'm handing over to Nazarea Andrew, author of The Horde Without End, the sequel to her NA zombie romance, The World Without a Future as she chats about zombie wordlbuilding.
Zombie Wordlbuilding by Nazarea Andrews
One of the best parts of writing the zombie apocalypse was creating a world that was vastly different from the one we live in, while still vaguely recognizable. In Finn and Nurrin's world, the country is fractured into Havens—zombie free cities. All of the East is gone, and the federal government has been reduced to a shadow  of it's former self. Places like Vegas are overrun by zombie and the powerful cult that has risen up in their wake.
One of the fun things aboutHorde was that we see more of the world—a deserted town that Finn and Nurrin spend a night in, and the people who live outside Haven's. We even get to see the capital, and how it's different from other Haven's. It was a lot of fun exploring all of that, and showing how the change has effected Finn—who knew a world without walls—and Nurrin—who sees the ocean and realizes just how small she is in this great big world.
Of course, sometimes it got confusing so one day, I sat down and marked up a map of the United States. And because I'm awesome, I'm sharing it with y'all!!!      
About The Horde Without End:
It was supposed to be over…
Returning from Haven 18 was supposed to be the end. But nothing is ever easy—and in a world full of zombies, finding the missing is next to impossible. There are breadcrumbs. Tiny clues. But what are a few tiny clues in a world of the dead?
Nurrin is desperate to find her brother, but that will mean trusting Finn O'Malley. A man shrouded in secrets, who kills as easily as breathing. And the more she learns about him, the more questions she has. But she has learned one thing—the zombies are changing. Adapting. And this time, the Haven walls won't keep them out.
Amazon | Barnes and Noble | Goodreads
Catch up with The World Without a Future, on sale for .99 NOW!