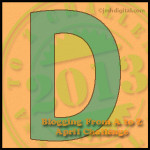 In keeping with the A-Z Challenge, today's letter is D, D for Krystalyn Drown.
Today I'm pleased to welcome YA author Krystalyn Drown to Off the Page chatting about her new book Spirit World.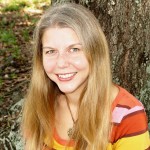 Krystalyn spent the past thirteen years working at Walt Disney World in a variety of roles: entertainer, talent coordinator, and character captain. Her degree in theatre as well as many, many hours spent in a dance studio, helped with her job there.
Her various other day jobs have included working in zoology at Sea World, as an elementary teacher, and currently as a support technician for a website. In the evenings, she does mad writing challenges with her sister, who is also an author.
Krystalyn lives near Orlando, Florida with her husband, son, a were cat, and a Yorkie with a Napoleon complex.
Author Website   Twitter    Facebook    Goodreads 
1. Tell a little about yourself, what you do when you're not writing, what are
your aspirations for the future?
When I'm not writing, I'm at work at my day job (website technician) or taking care of my four-year-old son. Any other spare time goes to catching up on How I Met Your Mother or Glee. My future aspirations — being able to live off of my writing income.
2. When and why did you start writing?
I've always written. In high school, I filled notebooks with the beginnings of novels. It wasn't until my son was born, and I became a stay at home mom, that I finished my first novel. That one, of course, is hidden deep where no one can find it.
3. If you could only read one book over and over again for the rest of your
life, what would it be and why?
It would probably be Blubber by Judy Blume. If you changed the setting from fifth grade to eighth grade, you would have me. And like the main character in Blubber, my story didn't have a happy ending either. No one got caught or was held accountable for their actions. We simply graduated and moved on to other schools.
4. What inspired your book, Spirit World?
I wanted a tattoo of the Chinese symbol for serenity on my right shoulder. I then started thinking about what kind of girl would get that tattoo and why.
5. Do you have a specific writing method like detailed outlines, using the snowflake method or dramatica etc.?
I have tried the snowflake method, Scrivenor, and endless other things, but I'm a pantster at heart. When I know the next chapter, I sit down and write it. I keep going until I reach the end, and then I revise. A lot.
6. Your book's going to be made into a movie, who would you cast in the main roles?
Riesa — Chloe Grace Moretz
Connor — Logan Lerman
Garrett — Jeremy Sumpter
V — Camryn Manheim
Azron — Edi Gathegi
7. Do you prefer writing to music or silence?
Silence
8. If you could be any fictional character for a day, who would it be and
why?
Probably Rose from Vampire Academy. She's so athlethic, which is the complete opposite of me.
Now just choose one:
1. Snow or Rain?
Snow
2. Reading or Writing?
Writing
3. Vanilla or Chocolate?
Chocolate

4. Sweet or Savoury?
Sweet
5. Ghosts or Demons?
Ghosts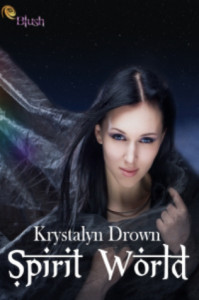 All Riesa Adair wants is a normal life. With the end of high school only months away and an outstanding GPA to bolster her college plans, that doesn't seem like too much to ask.
Unfortunately, the voices screaming in her head keep getting in the way. Somewhere between her summer in a mental institution, and her stepfather's attempt at an exorcism, she's learned to keep quiet about her situation. But, pretending to be normal hasn't prevented the spirit world from taking notice of her. Both sides of an ever-present war have focused in on her. Now she'll need all the help she can get to escape a powerful spirit threatening to fulfill a prophecy that engenders the entire human world.