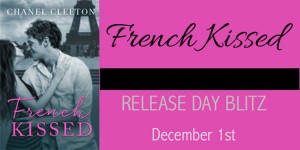 FRENCH KISSED by Chanel Cleeton
December 1, 2014
International School Book 3
New Adult Contemporary Romance
On the surface, Fleur Marceaux has it all. If only the facade matched reality. With one year left at the International School in London, Fleur's struggling to graduate, her love life is a mess, and she can't stop thinking about Max, her ex-boyfriend's best friend. But all that pales compared to the blackmailer determined to destroy her. ??
There's a social hierarchy at the International School and Max Tucker is outside the velvet ropes. After watching Fleur break his friend's heart, Max knows to stay away from trouble, despite the crush he's had on her since freshman year. But when they're partnered on a project, Max learns there's more to Fleur than meets the eye, and she just might be worth the wild ride. ??
The more time they spend together, the further Max falls. And when a kiss awakens a passion Fleur never imagined, she's unable to resist Max, who she had thought was all wrong for her but might be the only thing that's right. But will he stand by her when her secrets are revealed???
Don't miss the final book in the International School series. This New Adult romance is recommended for readers 17 and up.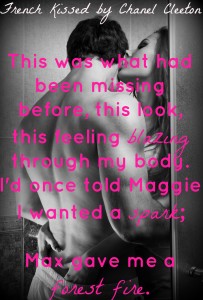 FRENCH KISSED (International School Book #3)
Amazon: http://amzn.to/ZH8BeL
Barnes & Noble: http://bit.ly/1vlkljJ
iBooks: http://bit.ly/1x2UaLu
I SEE LONDON (International School Book #1)
Amazon:  http://amzn.to/MpM27V
Barnes & Noble: http://bit.ly/1ibPGgh
iBooks: http://bit.ly/1ewcogY
LONDON FALLING (International School Book #2):
Amazon:  http://amzn.to/1n6rvo2
Barnes & Noble: http://bit.ly/VxbiOd
iBooks: http://bit.ly/1ziLXaq
Excerpt:
I noticed her perfume before I saw her. It smelled of flowers, and money, and seduction in a scent I'd never smelled on anyone else. Likely never would. It figured she'd have a signature perfume or something like that. And then I saw her, and like always, it took a moment to adjust to her beauty.

She was almost too beautiful. Maybe that sounded stupid, but there wasn't another way to describe it. It was like that moment when you first turned on a light, and it was so bright that it was nearly blinding—and not in a good way.

Fleur wore her beauty like a weapon, slicing through mere mortals with a careless arc, leaving destruction in its wake.

She could do with some imperfections—her nose a bit bigger, her lips less full, her hair less shiny. Something, anything to make her look like a real person.

Anything to make wanting her ache less, to ease the thrust of it that left me completely skewered.

I would have understood my attraction to her if I'd been one of those guys who got off on being with a hot girl. I mean, sure, I could appreciate a Maxim spread as much as the next guy, but looks had never been my primary motivating factor. Was it nice to have something pretty to look at? Absolutely. Did that get boring after a couple minutes? Yeah, it did.

If all of my past girlfriends had one common denominator, it was that they were all smart—a little nerdy, like me. I fit with the kind of girls who liked sci-fi movies and video games. Chill girls who didn't spend an hour doing their hair and makeup or own more pairs of shoes than there were days in the month. And yet, as Fleur slid into the seat across from mine, apple in hand, my pulse picked up and everything else stood at attention.
About the Author:
Originally a Florida girl, CHANEL CLEETON moved to London where she received a bachelor's degree from Richmond, The American International University in London and a master's degree from the London School of Economics and Political Science. Chanel fell in love with London and planned to stay there forever, until fate intervened on a Caribbean cruise and a fighter pilot with smooth dance moves swept her off her feet. Now, a happily ever after later, Chanel is living her next adventure in Asia.
Law school made Chanel realize she'd rather spend her days writing sexy stories than in a courtroom, and she hasn't looked back since. An avid reader and hopeless romantic, she's happiest curled up with a book. She has a weakness for handbags, her three pups, and her fighter pilot husband.
She is the author of I SEE LONDON and LONDON FALLING, published by Harlequin HQN, the upcoming FRENCH KISSED, and FLIRTING WITH SCANDAL, the first book in a new three-book series to be released by Penguin/Berkley in 2015.
Author Links:
Website: www.chanelcleeton.com
Facebook: www.facebook.com/authorchanelcleeton
Twitter: www.twitter.com/chanelcleeton
Goodreads: www.goodreads.com/chanelcleeton
Newsletter: www.chanelcleeton.com/mailing-list/