Today I'm delighted to welcome my fellow Month9Books author, Vicki L. Weavil, to Off the Page and guess what? CROWN OF ICE releases today!!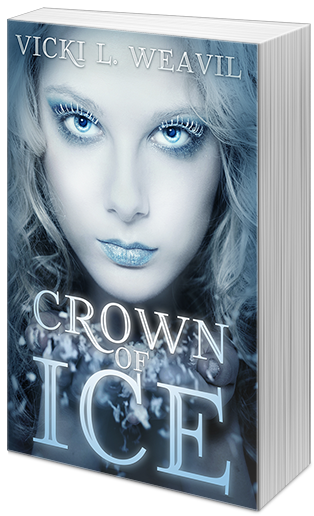 Thyra Winther's seventeen, the Snow Queen, and immortal, but if she can't reassemble a shattered enchanted mirror by her eighteenth birthday she's doomed to spend eternity as a wraith.
Armed with magic granted by a ruthless wizard, Thyra schemes to survive with her mind and body intact. Unencumbered by kindness, she kidnaps local boy Kai Thorsen, whose mathematical skills rival her own. Two logical minds, Thyra calculates, are better than one. With time rapidly melting away she needs all the help she can steal.
A cruel lie ensnares Kai in her plan, but three missing mirror shards and Kai's childhood friend, Gerda, present more formidable obstacles. Thyra's willing to do anything – venture into uncharted lands, outwit sorcerers, or battle enchanted beasts — to reconstruct the mirror, yet her most dangerous adversary lies within her breast. Touched by the warmth of a wolf pup's devotion and the fire of a young man's desire, the thawing of Thyra's frozen heart could be her ultimate undoing.
CROWN OF ICE is a YA Fantasy that reinvents Hans Christian Andersen's "The Snow Queen" from the perspective of a young woman who discovers that the greatest threat to her survival may be her own humanity.
Amazon | Barnes & Noble | Kobo | Chapters Indigo! | TBD | iBooks
Tell us a little bit about yourself. Who is Vicki L. Weavil?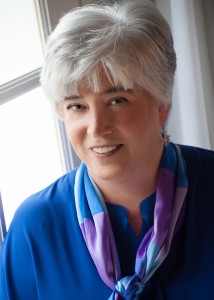 I'm a librarian who has never worn a cardigan or put her hair in a bun. I grew up in a very rural area, have lived in NYC as well as several smaller cities, and now live back in the country.
I've always been a voracious reader. When I was a child, my teachers questioned my need to check out seven books per week from the library, but soon learned I could read them all and remember details from each one.
Before I went to graduate school for my Masters in Library Science, I worked as a costume designer, picture framer, and various other things. When I was younger, I studied voice and could sing some opera, but now stick with folk music and standards. I have one son, who just graduated from high school, a husband who's my biggest fan, and three very spoiled cats.
You grew up in a farming community, what affect do you think this has had on your writing, if any?
It actually has a significant impact. CROWN OF ICE, while a fantasy, is set is a pseudo-nineteenth century Scandinavian world. My experience with farms and rural living definitely helped with descriptions of a pre-industrial world, especially in terms of tending to crops and animals. It isn't something I actually think about that much. because it's so engrained in my memory. I also rode horses, so describing riding and the care of horses is second nature to me. That's a benefit when you write pre-industrial world fantasy.
How has your experience in theater affected or shaped your writing?
What an interesting question! Let me think. Well, my theatre background included reading and studying a lot of plays, and I think this assists my plotting. Plays tend to have a definite structure that is more clear-cut than many novels. Also, I'm always aware of the concept of "Chekhov's gun." (The brilliant playwright, Anton Chekhov, stated: "Remove everything that has no relevance to the story. If you say in the first chapter that there is a rifle hanging on the wall, in the second or third chapter it absolutely must go off. If it's not going to be fired, it shouldn't be hanging there.")  I do keep this in mind and think about foreshadowing as I develop my plots.
Crown of Ice is a fairy-tale retelling, what drew you to this fairy-tale in particular?
"The Snow Queen" by Hans Christian Andersen is one of my favorite fairy-tales and has always resonated with me in a special way.  I didn't really understand why until I was older, but let's just say that there are aspects of the story that relate to my own life experiences—the battle of intellect and emotion being one.
I love the cover for Crown of Ice, can you give us a little background info on the design?
Month9Books has the most gorgeous covers, don't you think? I believe part of the reason for their success is that they actually engage the author in the process. The original concept for the cover was not something that I, my agent, or even Month9Books were really excited about. At that point I had the opportunity to talk directly with Georgia McBride, the founder and head of the Georgia McBride Media Group, of which Month9Books is one imprint. We discussed various options, and settled on the image that was used to create the final cover. The designer then did a superb job of integrating the image and the text, and another gorgeous Month9Books cover was born.
Can you tell us about any new works or works-in-progress we can look forward to?
I have pending news about my completed Young Adult science fiction novel. (Book one in a trilogy). I will be announcing any news on my website, Twitter, and my other social media sites, so stay tuned!
Right now I am working on a Young Adult novel that is basically a contemporary with a paranormal twist.  I have several other books outlined, so I am set for future writing projects!
Quick, it's the zombie apocalypse! If you could choose any author to be your survival buddy, who would you choose and why?
Stephen King, because he's already worked through all this horror stuff, and would know what to do!
You can only choose one! (Now, since I am a fantasy and science fiction writer, I claim the right to an alternate universe answer as well!)
Science fiction or fantasy?
Fantasy (Alt-U : Science Fiction)
YA or Adult?
YA (Alt-U: Adult)
Magic or Advanced Technology?
Magic (Alt-U: Advanced Technology)
Facebook or Twitter?
Twitter (Alt-U: still Twitter)
And most importantly…
Reading or Writing?
Writing (Alt-U: Reading, and you realize this question is like asking me to choose between breathing or eating, right?)
Author Links:  Website | Twitter | Facebook | Goodreads | Tumbler