Today I'm celebrating my first ever translation!
My story Where Dreams are Grown, originally published by Niteblade Magazine in September 2012, has been translated into Finnish and published by Finland's leading science fiction and fantasy magazine Tähtivaeltaja.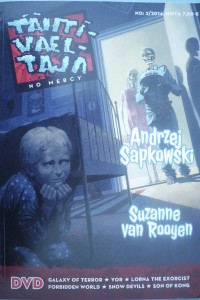 It's rather surreal seeing my name on the front cover of this magazine!
Along with my story, I did a lengthy interview with the magazine, chatting about everything from why I left South Africa for Finland to what inspires my writing and what's coming up next for me.
It was a huge honour to be featured in this magazine and I'd like to give a shout out to all the people who made this possible, as well as to all my Finnish readers. Thank you so much! If any of you are going to FinnCon this July, be sure to come by and say hi. I'll be on a couple of panels at the conference and would love to meet you all!