Sometimes it takes crossing an ocean to figure out where you belong.
It's been two years since twenty-year-old Jordan had a boyfriend—which means it's been forever since she, well, you know. But now she's off to spend her junior year in Aberdeen, Scotland, the perfect place to stop waiting for Mr. Right and just enjoy Mr. Right Now.
Sexy, sweet (and possible player) Griffin may be her perfect, no-strings-attached match. He's fun, gorgeous, and makes her laugh. So why can't she stop thinking about Noah who, minutes after being trapped together outside the train's loo, kisses Jordan like she's never been kissed before? Never mind his impossible blue eyes, his weathered, annotated copy of The Great Gatsby (total English-major porn)…oh, and his girlfriend.
Jordan knows everything this year has an expiration date. Aberdeen is supposed to be about fun rather than waiting for life to happen. But E. M. Forster, Shakespeare, and mistletoe on Valentine's Day make her reconsider what love is and how far she's willing to go for the right guy.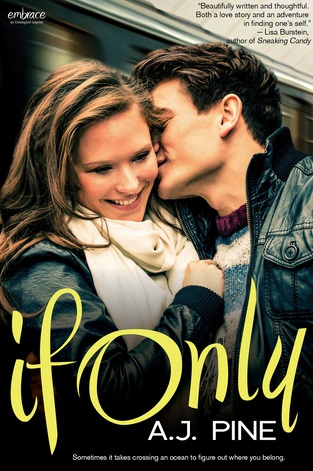 Amazon      Barnes and Noble    iBooks     Amazon UK 
Excerpt:

Interesting things tend to happen in the vicinity of British and Scottish toilets. At least that's been my experience for the past twelve hours or so. Weaving through the maze of small, wooden tables, I keep my eyes trained on the guiding light of the sign. Though at this point, my focus lies in relieving myself of that first snakebite and then bellying up to the bar for another. So when I hear my name, my last name, I freeze.

"Brooks?"

Sam's the only one who calls me this with any regularity. But Sam's in Illinois. In fact, it's not a girl's voice at all. It's just my name, a simple word. I hear it all the time. But his is more than a simple voice, though I've only heard it twice. And somehow my name means something new altogether, something that lodges my stomach in my throat. "Jordan Brooks, right? Salt-and-vinegar crisps? Unfortunate recipient of unintentional attack by a loo occupant?" His teasing does nothing to urge my stomach back to where it belongs.

Shit. Turn around, Jordan. Move your feet and turn around.

I take my third-person advice and pivot to face him.

"Noah!"

My hand flies to my mouth on instinct. Though I have every intention of speaking when I face him, I didn't yell his name. Whoever did must be attached to the arms that wrap around his midsection from behind.

Noah's jaw tightens when his eyes meet mine, and I shake my head, a soft, bitter laugh escaping my lips. He breathes out a heavy sigh and conceals whatever he just let me see—Regret? Remorse?—with a lazy smile, one that doesn't reach his eyes.

The girl behind Noah swivels around to face him, her long, honey hair now a barrier between his face and mine. I wonder if when he sees her, his smile fills the rest of his face.

"I looked for you at the bar but couldn't find you, and we wanted to get another round of those snake thingies."

Her voice, of course, is as gorgeous as her hair, and I don't need to see her face to know she's got the whole package. I suddenly feel small and not because of her Amazonian stature. I'm dwarfed by her entire presence, wholly invisible until I hear Noah respond.

"Hailey, this is Jordan. She was on the train with me from London."

Noah's voice betrays nothing of what happened between us. But I see it, the resignation in his eyes. Hailey gives no hint of noticing, but it's there.

He maneuvers her to face me, the relief in him remembering I am here diminished by the formality of his using my first name.

Of course she has a name like Hailey, bright and bubbly and lovely, like the girl who wears it.

Only now do I notice Noah's damp hair and change of clothes. In a black T-shirt and jeans, he stands fresh and showered. My memory reinvents his scent. In the cool, damp Scottish autumn, all I smell is spring.

Apples, I think. I should be smelling apples. I came here with Griffin, and I can't believe I gave him shit for being like every other guy I've encountered in my college career. I thought Noah and I connected over the power of words, Fitzgerald's and even my own. But it was nothing but manipulation. I pierce him with my gaze, silently chastising myself for falling for his Gatsby bit. The book is probably nothing more than a hook-up prop.

"Apples," I say.

That wasn't supposed to be out loud.

Noah's brow furrows, but he's smiling, and my stomach contracts at the sight of it. Good God, something is seriously wrong with me.

"Cider, from apples," I continue. "It's what makes the drink taste so good. Did you get it with black?" Nice save, Jordan. I'm sure neither of them think you're deranged.

"No! What's black?" I want to ignore Hailey's earnestness, and that she's beautiful, sweet, and with Noah.

"Go order a snakebite with black, and you'll see what I mean."

She beams and turns toward Noah. "You want one?"

Noah raises a pint of Guinness to signal his answer, and Hailey bounces once before heading back to the bar.

"You weren't on the bus," I say it as if I'm owed an explanation.

He looks at me, cocking his head to the side, and despite my uneasiness about, well, everything at this point, I almost smile. I've known him for barely a heartbeat, but I can tell this is a quirk of his, a habit.

But I'm not supposed to notice cute, quirky gestures of a guy I barely know who most definitely played me on the train since here he stands, with a girlfriend.

"The bus," I continue, getting back to the point. "From the train to campus. You weren't on the bus. All students were on the bus."

"Oh." He understands. "Hailey met me at the train. We took a taxi."

Noah runs a hand through his hair, avoiding my eyes. Good. Let him feel uncomfortable.And he said we. It's confirmed. They are a we. It shouldn't matter. The kiss meant nothing. It doesn't matter.

"Isn't that sacrilege?" I ask, not masking the bite in my tone. "A pint of Guinness in a Scottish bar? Shouldn't you hang with the locals?" Thankfully, I've regained the ability to speak like a human.

"Does it help if I'm Irish? I can prove it. Last name's Keating, or am I too much of a stereotype?" He can't possibly be trying to flirt after all of this.

"Just … don't," I say, rolling my eyes and pivoting back toward the loo.

It was one kiss with a stranger, one spectacular, lovely kiss from someone I wasn't sure I'd see again. But I did see him, with her, and logic loses out to irrational emotion.

"What?" he asks, laughter infused with his inquiry. "You do think I'm a pathetic stereotype!" He puts his hand on my shoulder, and I flinch before turning back to face him.

"No. That's not it. I mean, yes. You are a pathetic stereotype, in so many ways, but that's not it." I can't help but laugh a little, too, at the irony of it all. "Come on, Noah. It's the train. The bar. The Hailey. And the name! Seriously? Keating?"

Sam holds the secret of my mildly irrational preoccupation with a name from Dead Poets Society.

"Brooks." The sweet, deep rasp of his voice as he says my last name holds me prisoner. We face each other, mere inches between us, despite his use of we meaning him and someone else, I can't escape the pull of that one word, my name, and the aching way he says it.

I close my eyes for a moment, severing the connection enough for me to speak.

"Please. I'm humiliated enough as it is. Don't say anything to make it worse, okay? You don't need to worry. I won't say anything."

He runs his free hand through his hair. "Brooks, no. I wasn't going to … Humiliated? Shit. I need to explain."

But he never does. Hailey materializes again, all willowy and smiling and holding two snakebites. Noah stands there, wide-eyed and silent.

"I figured you needed one, empty hands and all." She presents the second beverage to me, and I groan out a "Thank you." It's going to be difficult not to like her. What's not going to be difficult is getting the hell out of here.

I raise my glass to the happy couple and cheer, "O Captain! My Captain!" slamming half the pint before finally walking the rest of the way to my destination.

I'm sure they both think I'm slightly unhinged at this point, spouting Whitman's epitaph for Lincoln, or, more than likely, they have no idea what I said at all but still think I'm bordering on loon. Maybe I am. I recognize the hypocrisy of my reaction after coming here with Griffin, but it doesn't change the kick in my gut of meeting Hailey, the reason for his hesitation, for his guilt after we kissed. For our less-than-infinite-now in a tiny pocket of the train, I was mysterious and special. At the moment I'm just pathetic. I throw back the rest of the pint, ignoring the warnings pre-Scotland me would give on drinking too much too fast. This is the new Jordan Brooks, one year removed from the safety and monotony of her Midwestern life—maybe she drinks a little more and thinks a little less.

I blame it on American boys.
About the Author
AJ wri
tes stories to break readers' hearts, but don't worry—she'll mend those hearts with a happily ever after…maybe. The first book she wrote was YA, but now she's two-timing her first love with NA. She's always in the middle of reading two to three books, adores online shopping (everything from groceries to shoes), and she still loves vampires, whether it's Eric Northman or the Salvatore brothers. When she's not writing, AJ is sneaking off to her day job as a high school English teacher or hanging with her husband and kids in the Chicago burbs.