Inspired by the #fridayreads and #undertheradarYA Twitter tags, I'm going to be posting about lesser known awesome books every Friday, if I can. This week's Friday Read and lesser known YA gem is The Gospel of Winter and here's why.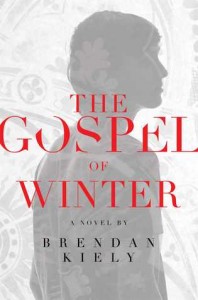 A fearless debut novel about the restorative power of truth and love after the trauma of abuse.
As sixteen-year-old Aidan Donovan's fractured family disintegrates around him, he searches for solace in a few bumps of Adderall, his father's wet bar, and the attentions of his local priest, Father Greg—the only adult who actually listens to him.
When Christmas hits, Aidan's world collapses in a crisis of trust when he recognizes the darkness of Father Greg's affections. He turns to a crew of new friends to help make sense of his life: Josie, the girl he just might love; Sophie, who's a little wild; and Mark, the charismatic swim team captain whose own secret agonies converge with Aidan's.
The Gospel of Winter maps the ways love can be used as a weapon against the innocent—but can also, in the right hands, restore hope and even faith. Brendan Kiely's unflinching and courageous debut novel exposes the damage from the secrets we keep and proves that in truth, there is power. And real love.
This is a brand new book that hasn't been getting nearly as much love on the blogger circuit as it should. I stumbled upon this book trawling through January releases. The cover and title instantly caught my attention and then that blurb – well, despite not being an uberfan of contemporary YA, I just knew I had to read this book.
Despite the bouts of nausea this story induced and how it left my heart in a million shattered shards, I couldn't stop reading. This is a book that will undoubtedly haunt me for months, and that absolutely struck a chord with me, not least of all because I was raised Catholic and had family members who were touched/hurt/damaged in the same way Aidan is.
Story aside – the writing is lovely and raw. The dialogue was extremely real and not as clean as I've come to expect in fiction – I don't mean the use of foul language, but rather the chaotic way in which real people in real life often talk to each other without the benefit of an editor. This authentic delivery made Aidan's ordeal all the more visceral. I also loved the way Kiely wove the theme of sexuality into this story, although I wouldn't go so far as to classify this as an LGBT story.
The Gospel of Winter might be an under-the-radar read for now, but Kiely is definitely on my radar! His style reminds me a little of Bret Easton Ellis – a compassionate Bret Easton Ellis – as Kiely is able to write about controversial subject material with sensitivity instead of apathy.
I strongly recommend this book to fans of contemporary YA who enjoy male POV stories. This story is dark and edgy, but it is never gratuitous, making this one of the most authentic and heart-breaking stories I think I've ever read.