Today I'm pleased to welcome dark fantasy author T.L. Bodine to Off the Page, chatting about her latest book.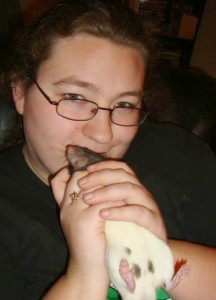 T.L. Bodine spent most of her childhood traveling with her blue collar family and living in the sort of small towns where horror movies are set. She received a bachelor's degree in English from New Mexico State University in 2007 and briefly pursued an MFA in creative writing before realizing that she was better suited to writing than talking about it.
She currently lives in Las Cruces, New Mexico with her boyfriend David and a small zoo of rescued animals including a toothless chihuahua, two cats, and several geriatric rats.
To learn more about Tiana, be sure to check out her blog.
1. Tell us a little bit about yourself. Who is T.L Bodine?
I'm a 20-something wordsmith who wears a lot of hats: web content writer, novelist, journalist, video game creator.  My first short story got published in 2007 and I've been involved in a lot of projects since then.  Most recently, I worked on an anthology, Trust Me, which is a companion volume to the RPG "Doll" from Ginger Goat.  I've also recently written and edited much of the content for the RPG gamebook "Holdfast" from Black Chicken Studios.
I currently have two novels on the market:  Nezumi's Children, which is sort of like "Watership Down" meets "Lord of the Flies," and Tagestraum, which is about a social worker whose search for a missing child leads him to a faerie world filled with living nightmares.  I've also got a collection of short stories, The Beast in the Bedchamber, which is seven dark fairytale retellings.
When I'm not writing in some form or another (which is rare), you can usually find me in the kitchen experimenting, playing with my myriad rescue animals, or plopped down with a video game for several hours.  Sometimes all three at once, but I wouldn't really recommend it.
2. What draws you to dark fantasy?

It seems that every idea that pops up into my head is always very fantastical.  I like fantasy because you get to make up your own rules and have total control over the world you create.  The "dark" part was more of an accident: I'll sit down to write something that I think is perfectly reasonable, standard fantasy adventure stuff, then someone will read it and say, "Tiana, you realize this is completely terrifying right?"  And I'll be like, "Oh, okay, I guess I can see your point."
Growing up, I always had a huge soft spot for scary stories.  I have an anxiety disorder that's been part of who I am since childhood, and I think I've always found horror to be sort of comforting because of it: When you suffer from chronic anxiety, life itself can be kind of like a horror movie.  Having a safe outlet for those fears can be relieving.  So when I was creating Adrian's character for Tagestraum, I realized that he was also OCD, and anxiety became an integral part of the story (and what makes it so damn creepy).
3. You're into video games, has this affected how you write and, if so, in what way?
In a lot of ways, I think games are quickly becoming one of my favorite modes of storytelling.  I just finished The Walking Dead: Season One from Telltale Games and it was absolutely gripping — phenomenal acting  and top-notch writing like you'd expect from a TV show, but with interactive elements that made it so much more engrossing.  I'm excited to see what direction interactive storytelling goes in the digital age, and I'm doubly excited to have worked on some gaming projects so I could be part of it.
In terms of my own writing, the thing that video games do so well is create really engaging side characters.  You look at a game like Dragon Age where you have a huge party to adventure with, and every one of those characters has an arc over the course of the game.  I try to emulate that as much as possible in my books: Any character who walks into the story, no matter how small of a role, I spend time thinking about what that person wants, what makes them tick.  I try to give side characters their own arcs and journeys whenever I can, to really give the worlds I create some depth.
4. Tell us about Tagestraum. What's it all about and what makes it special?

Tagestraum is about a young boy, Nathaniel Weaver, who goes missing mysteriously from his backyard.  One of the last people to see him is his social worker, Adrian Montgomery, who feels inexorably tied to the case.  Part of the reason has to do with a drawing that Nathaniel left behind of a figure he calls The Nightmare Man — a figure Adrian's seen in his own dreams.  Adrian visits the scene of the disappearance and is pulled through a doorway into another world, the eponymous Tagestraum, where faeries live and use the energy from human dreams to literally light their world.  Light, as it turns out, is pretty important in Tagestraum, because each night brings The Darkness — a sort of primordial night where nightmares become very real and very dangerous.
Adrian's quickly discovered by Sonia, a faerie who lives in the shadow of the doorway between the worlds and spends her time tending to the people who cross through it.  She's immediately intrigued by Adrian because he's still sane and "whole," where the other humans she's met have been driven totally mad by the chaotic energy of the place.  So she's trying desperately to get him home before The Darkness destroys what's left of his mind, but he refuses to leave until he's found Nathaniel.  Along the way, he ends up confronting a lot of memories from his own troubled childhood, and he has to face his worst nightmares — literally.
The thing that makes Tagestraum special is it's really several stories in one:  On the surface, it's a fairly straightforward fantastic quest very much in the same vein as, say, Labyrinth, with just as much whimsy and adventure.  But beneath that, it's also a story about a family that's fallen apart and the power of repressed memory.
5. What made you decide to self-publish?

I made the querying rounds with Tagestraum and even entered a few query contests.  Every time, I found myself faced with various iterations of the same response:  This is good, but there's no market for this kind of story.  Nobody seemed to want a "portal fantasy," especially one for adults, and most especially one with a male protagonist and very little romance.  One day I caught myself thinking of how I could rework the entire book to make it more marketable, and then realized how silly that would be: Such drastic changes may or may not have made it more commercially appealing, but it certainly would not have been the story I set out to tell.
So I dipped my toes in the self-publishing world with The Beast in the Bedchamber and realized I really enjoyed it.  I got to collaborate with a fantastic artist for the cover and got a pretty decent response to it.  So I decided to forge ahead and love the freedom and flexibility.  My favorite part is working with artists.  I'm very fortunate in knowing quite a few professional illustrators, like Claire who did my Tagestraum cover, and working together to get the image just right is such a magical process.  I might peek back into traditional publishing with future works, but for now I feel that the stories I've told so far are in exactly the place they need to be.
6. Can you tell us about any new works or works-in-progress we can look forward to?

Right now, I'm working on a "companion" to Nezumi's Children, which I'm posting as I go to Wattpad. It's about half rat mythology and half vignettes about the characters outside the plot of the story, and all of it is in response to some fans who have demanded to hear more about that world.
I'm also working on my next novel, which I guess you could pitch as "District Nine With Zombies."  It's about a population of self-aware undead who must register with the government and take a drug to pacify them and prevent them from becoming mindless killers.  A small resistance group discovers that the government's motives in all this are not entirely pure, and the undead may not be the threat everyone believes them to be, and sets about trying to bring those truths to light.
7. You're stranded on a desert island, which one movie, book and video game would you have with you?

Oh jeez.  Ok.  Let me think.
Movie = The Princess Bride
Book = Les Miserables
Video game = Dead Rising (not my favorite game, but certainly one of the most infinitely replayable)
You can only choose one!

Now that's just mean
1. Fantasy or horror?

Horror.  It's my first love, after all.
2. Morrowind or Skyrim?

Do I lose gamer street-cred if I admit I've played neither?  (I keep meaning to pick up Skyrim, but I know if I do that many days of total non-productivity await me)
3. Reading or writing?
Writing.  The stories in my brain would drive me crazy if I didn't let them out somehow.
4. Blockbusters or art house films?

Art house films for sure.
5. Zombie apocalypse or robocalypse?
Robots are the more likely scenario, so I'm going robocalypse!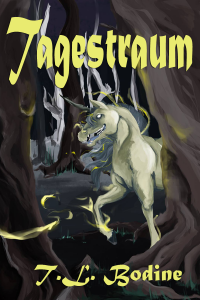 Working as a child welfare agent, Adrian has seen a lot of disturbing things. Nathaniel Weaver isn't the first kid in the city who's ever gone missing, but his disappearance haunts Adrian in a way he cannot entirely explain. Maybe it's because the child looks so eerily similar to himself. Maybe it's the drawing that Nathaniel gave to him the last time they met: a cloaked nightmarish figure that Adrian recognizes from his own dreams.
When Adrian returns once more to the scene of the disappearance, he finds a doorway leading to another world: Tagestraum, a bizarre and often treacherous faerie realm powered by human dreams. The world itself threatens the safety and sanity of any human that crosses into it, and several of its denizens are eager to harvest errant humans for a little raw energy.
Adrian knows that he's the only person who can find Nathaniel – but to do it, he must battle both dangerous inhabitants and his own worst nightmares, and each night that passes brings Adrian closer to losing himself completely.