Today I'm delighted to welcome New Adult author Theresa Paolo to Off the Page sharing the A-Z of what she's learned as a writer…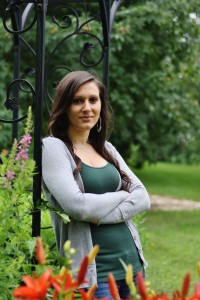 Theresa Paolo lives in the same town she grew up in on Long Island, NY with her boyfriend and Milton, their big eyed goldfish. She has a hard time accepting the fact she's nearing thirty which is why she writes New Adult and Young Adult books, reliving the best and worst years of her life through her characters. She put her love of writing on hold while she received her Bachelor's Degree in Marketing from Dowling College. On November 11th 2011 at 11:11 she made a wish. Two hours later she was laid off. Jobless for the first time since she was sixteen she was determined to make her wish come true. Writing became her life again and after many nights of ignoring her boyfriend to spend time with her characters, she finally received the call that all her hard work, finger crossing and eye crossing paid off. She signed with Berkley (Penguin) and her debut novel, (NEVER) AGAIN, a NA romance, released in Fall 2013. When she's not writing, she's behind a camera or can be found in the blogosphere or on Twitter, Pinterest and Facebook.
A-Z The Things I've learned as a Writer

I have learned so much along my writing journey. Some I learned the easy way and others, well, not so easy. Today I wanted to share some of those lessons with you. So here goes.
Always carry a pen and paper
Be prepared for rejection
Critique Partners, if you're lucky, will become your best friends
Distractions can destroy your mojo
Embrace the thing that makes your writing yours
Facebook is one of those distractions
Goodreads, after you're published, is Evil (Yes Evil with a capital E)
Having your first book debut on the NYT bestseller list is most likely not going to happen
Inspiration can come from the weirdest places
Just write
Keep going even if you think you're writing nothing but garbage
Love your work, or no one else will
Main characters can and will control your life
Never give up. Ever
Opinions. Everyone has them and they are entitled to them
Perseverance does pay off
Quit comparing yourself to other writers. There's a reason you aren't them.
Read. Read. Read. Revise. Revise. Revise.
Sweat pants are a must
T witter is another distraction
Understandable that you may not know what a comma splice is or a participle, but you will
Vampire Diaries is not always the best show to have on when writing. See D.
Walk away every now and again
(e)Xpectations aren't always met and that's okay
You can do it no matter what that voice in your head tells you
Zombies, witches, werewolves, vampires etc. will come and go, don't write for a trend, write for you
There's my list. Now I want to know some of the things you've learned along your journey as a writer.