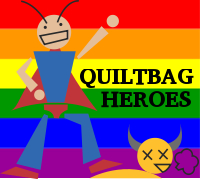 Last Wednesday I missed my weekly LGBT post – so sorry about that! But I'm here to make up for that today.
It's QUILTBAG HERO Wednesday here at Off the Page, a day celebrating QUILTBAG heroes and role models, a showcase of the amazing gay, lesbian, bi, trans*, queer/questioning, unisexed, intersexed and asexual people, real and fictional, who inspire us.
This week I'd like to introduce you the first openly gay member of US public office…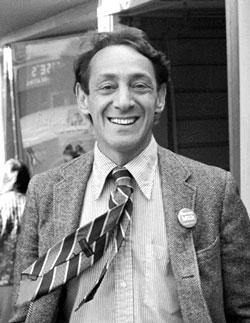 Harvey Milk was an American politician who became the first openly gay person to be elected to public office in California in 1977. Despite having not been open about his homosexuality until around the age of 40, Milk was an iconic figure of the 1960s counterculture.
Like so many gay men, Milk moved from New York to San Fransisco during the 1972 migration to the Castro District. Here, he took advantage of the growing political and economic power of the neighbourhood to promote social changes, eventually leading to a position in public office.
Milk served almost 11 months in office and was responsible for passing a gay rights ordinance for the city. On November 27, 1978, Milk and Mayor George Moscone were assassinated by Dan White, a disgruntled former city supervisor. The assassinations were the result of growing ideological conflicts in the city at the time.
Despite his brief time in office, Milk became an icon in San Francisco and a champion in the gay community. In 2002, Milk was called "the most famous and most significantly open LGBT official ever elected in the United States".
"What set Harvey apart from you or me was that he was a visionary. He imagined a righteous world inside his head and then he set about to create it for real, for all of us," said Anne Kronenberg, his final campaign manager.
Gus van Sant cast Sean Penn in the titular role of his 2008 film titled Milk, a biopic telling the story of Harvey Milk and his campaign for gay rights. Milk was posthumously awarded the Presidential Medal of Freedom in 2009 and definitely deserves to be called a QUILTBAG Hero.
What do you think of Harvey Milk? Who is your hero?