Today I'm pleased to welcome Marie Carhart to Off the Page, sharing the query that landed her a publishing deal with Etopia Press.
Just a quick reminder about this feature…
All these featured queries worked! Meaning they snagged the attention of an agent or editor. These books are now represented or published, or both.
These queries are not perfect. They don't have to be. This is to show aspiring authors the kind of query that works despite imperfections.
These authors aren't looking for critique on their queries since these books are already represented or published, but have kindly agreed to allow me to showcase these queries to help other authors currently playing the query game.
You are of course welcome to comment on all the queries!
Today's query is a little different so instead of starting with the author bio, I'll start with the query to show you that you don't always have to fit the mould to be successful…
To Etopia Press…

I am seeking publication for The Kabrini Message, a unique character-driven novel where adventure and science fiction collide. This professionally edited manuscript is approximately 75,000 words.

An alien civilization is about to make contact with Earth—but mankind isn't ready for their message.

Jeffrey Driscoll is a ruggedly charming adventurer with a hidden consciousness: when he gazes through the eyepiece of his telescope, he senses someone is looking back.  Haunted by the stars since boyhood, he sets off on an exhilarating quest that takes him across the planet. Throughout his reckless escapades, Driscoll is often accompanied by Mondo (a childlike, affable African), Mohammed (a surly, sun-blasted Arab) and Goldstein (a cynical New York Jew), an unlikely trio that never fails to land Driscoll face-first into hilarious predicaments. When an uptight British archeology professor hires the ragtag crew for a dig on the island of Delos, Driscoll stumbles upon a miraculous find: ancient crystals bearing celestial coordinates that will connect mankind with the Kabrini, a highly advanced alien civilization.

Years later, when Driscoll Mining and the U.S. Army complete deep space construction of the Kabrini communications network, Earth finally makes contact…only to discover the Kabrini message may not be what the human race wants to hear. In the meantime, a dangerous terrorist group's explosive hunger for revenge threatens the Kabrini network, but Driscoll will stop at nothing to save the project. As his obsession with the Kabrini spirals out of control, he risks losing it all, including the one thing he's ever truly loved: his beautiful wife, Carol. This thrilling tale follows Jeffrey Driscoll and all of mankind on their journey to universal enlightenment, transporting readers from the jungles of Africa to London, from Los Angeles to Greece, from Washington D.C. to Egypt, from Jamaica to Vienna and finally to the deepest depths of space.

Now, a little about me: I am not a writer. I am the sister of a writer. My brother J.R. Egles, author of The Kabrini Message, passed away in January 2010 two months after his 60th birthday. A year later, I went into my attic in search of old photographs. I found the photographs, but I also found something else: a large manila envelope, marked in my late mother's handwriting:  "Joe's Book."  The manuscript was dated 1987. As I began reading Joe's book, I found that I couldn't put it down. I was amazed that he had the imagination to create these intricate twists and turns. Most of all, I loved the quick wit and humor in the dialogue between the colorful characters.

So I decided I would get The Kabrini Message published as a gift to my brother. I hired a professional editor and ghostwriter, who has already filled in the missing pieces, modernized the story and edited the entire manuscript.

As per the instructions on your website, I include (below) our social media information and have attached the manuscript as well as the synopsis in .RTF file format, as requested.  Thank you for your time and consideration.

Sincerely,

Marie Carhart, Sister of Author J.R. Egles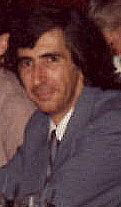 Author J.R. Egles was born on November 23, 1949 in Elizabeth, New Jersey to Marie and Bob Egles.  He was the eldest of four children.  Other than a three year period from ages nine to twelve when the family lived in Hialeah, Florida, Joe was a lifelong New Jersey resident.
From an early age, Joe developed a fascination of astronomy.  Joe ground his own telescope lens from a big thick circular piece of glass about the diameter of a dinner plate.  Day after day, he spent endless hours in the basement of his family's home grinding it with rouge.  When it was finished, he installed the lens in a large telescope that he built himself from scratch.  Joe's father set a pipe in concrete in the backyard to serve as a mount for the telescope.  Joe was also an avid photographer whose favorite subjects were, of course, the stars and planets.  With that telescope, Joe was able to combine his passions for astronomy and photography by capturing amazing photos of the moon, planets and constellations.
The one thing that surpassed even his obsession for astronomy, however, was his enduring love of ham radio.  At a very young age, Joe joined the close knit community of "hams" when a neighbor introduced him to this unique world of communication.
When the sky was clear, Joe would spend the entire night out in the backyard gazing upward.  When it was cloudy, he would retreat inside where he'd chat with folks all over the world on his ham radio.  Back then, his ham call letters were "WB2UXJ", and he could be heard calling, "This is Whiskey, Bravo, 2, Uniform, X-ray, Japan" throughout the night.  Later, after receiving what is known as an Extra Class license, the call letters became K2UX (and the mantra became "King, 2, Uncle, X-Ray").  It was the pre-Internet version of online chatting.
Therefore, we should not be surprised that The Kabrini Message combines both of Joe's loves: outer space and communication.
Joe graduated from Governor Livingston Regional High School in Berkeley Heights, New Jersey.  This was not the high school most residents of his home town of Garwood attended—Joe hand-selected the school because it offered electives in electronics.  After graduating from high school, Joe attended Union County College.
Joe wrote The Kabrini Message in Loveladies, New Jersey in 1987 over the course of about six months.  At the time, Joe was serving as a full-time, live-in caretaker of another Joe, his elderly grandfather.
Joe most recently lived in Ship Bottom, New Jersey with his wife, Gwen.  He was a father of three and a grandfather of four.
In January, 2010 Joe passed away at the age of 60.  Although he wrote a few short stories and did some freelance writing for a local newspaper, The Kabrini Message was his first and only novel.  The Kabrini Message was an idea 25 years ahead of its time, and there is no doubt that Joe is very pleased that his novel's time has finally arrived!
Amazon.com     Amazon.co.uk     Barnes and Noble
Facebook     Blog    Pinterest     Twitter
So what do you think? 
If you have a query that worked and would like to share it with others, please feel free to email me at the address listed on the Contact Me page.