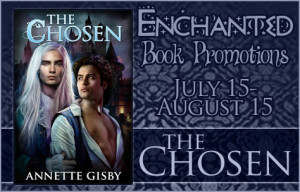 Today I'm pleased to welcome Annette Gisby to Off the Page chatting about her new M/M romance, The Chosen.
Finding the Perfect Cover
by Annette Gisby
My book had previously been with a publisher and when the rights reverted to me, I knew I wanted to try self-publishing it this time. However, the publisher owned the rights to the previous cover so I knew I had to find my own cover somehow.
I had some idea in my head as to what I wanted. For a start, I wanted my two heroes, Severin and Havyn on the cover. I trawled through lots of stock picture sites trying to find models who would suit. Finding a long white-haired man seemed nigh impossible. A lot of my searches kept returning lots of pictures of white long-haired cats. Pretty though they were, they had nothing to do with my book.
Feeling increasingly frustrated at trying to find pictures to suit, I decided to ask a cover designer for help. But there are lots of cover designers, how on earth do you decide on who to choose? I saw some pictures of fantasy covers on Ravven's website (www.ravven.com) and I loved the style, they had a fairy tale, almost ethereal quality and since I'd written The Chosen as a fairy tale for adults, I decided to try Ravven.
Her website was very helpful, she had a list of things that the cover designer would need to know, such as what sort of look did you want – romantic, funny, mysterious etc. What genre was your book? What did your characters look like if you wanted them on the cover? Any cover styles you loved or hated from other books? It got me thinking in depth about what I really wanted and once I'd had all the information, I sent her an email to ask about doing my cover. I wanted readers to know at a glance that my book was both an m/m romance and a fantasy book.
A few weeks later I had some proofs in my inbox and my jaw nearly dropped to the floor. It was like Ravven had been inside my head and plucked how my characters looked out of there. And the trouble with finding the long white hair? Easy for an artist, Ravven drew it on the model, LOL! He doesn't have long white hair in real life.
I love my new cover and the readers seem to like it too.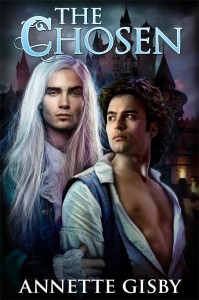 The neighbouring kingdoms of Oscia and Arcathia have been at a tentative peace for three years after centuries of warfare. Prince Severin of Arcathia has been brought up to put duty before all else and as the only son of the King and Queen, it is his duty to marry and produce an heir. His parents want him to marry an Oscian princess to cement that tentative peace. Unfortunately Severin isn't interested in princesses. Now, if he had his pick of princes that would be another matter.
Havyn has been a slave all his life. When his aptitude for wizardry is discovered, he finds himself purchased and freed by Prince Severin and apprenticed to the royal wizard, Ildar. His duty is to stay chaste to keep his powers strong, but his feelings for Severin sorely test his resolve.
With kingdoms at war, the throne hanging in the balance, magic in the air, and outside forces trying to keep them apart, can the two men find happiness together, or is duty more important than love?
About the Author
Annette Gisby grew up in a small town in Northern Ireland, moving to London when she was seventeen. Being a very small town there were no bookshops and a small library. When she'd devoured every book she could get her hands on in the library, she started writing her own stories so she would always have something to read later.
When not writing she enjoys reading, cinema, theatre, walks along deserted beaches or wandering around ruined castles (great places for inspiration!) New Zealand is her favourite place and she hopes to travel back there one day. She's a fan of Japanese Manga and Anime and one day hopes to learn Japanese.
She currently lives in Hampshire with her husband, a collection of porcelain dolls and stuffed penguins and enough books to fill a small library. It's diminishing gradually since the discovery of ebooks but still has a long way to go.
Website     Twitter     Goodreads     Romance Reviews