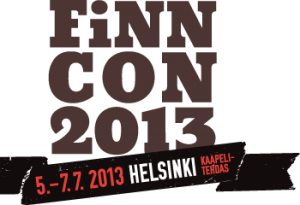 FinnCon is an annual science fiction and fantasy convention held somewhere in Finland. This year it's in Helsinki and there are numerous panels in English, which means I can actually attend and understand something, yay! Today I attended my first ever story workshop and here's how it went…
Unlike Comic cons and various other geeky conventions, FinnCon is tailored specifically to the more literary side of geek culture, specifically aimed at established and aspiring genre writers with panels discussing such topics as Why YA?, Queer Science Fiction, Science Fiction as Metaphor and A Soundtrack to Writing. Not all of the events are in English but today I was fortunate enough to attend a short story workshop that was.
French author Aliette de Bodard and Latvian author Tom Crosshill hosted the workshop. I hadn't heard of either author until today and that made this even more of a treat because I got to meet fellow European writers, writing in English and publishing abroad, namely in the States and the UK. It was also the first time I've ever attended this sort of workshop, and my first time receiving real time critique on one of my stories face-to-face.
To be honest, I was terrified. I submitted one of my shorts that already been published (Killing Jar Captives) because I thought, if everyone hates it and shreds it, then at least I can say 'well one editor liked it enough to buy it,' and not feel completely eviscerated by their criticism.
The first part of the workshop consisted of two fairly brief discussions, one on world-building by Aliette (brilliant, a blog post unto itself) and the other a talk on the writer's intent and process (even more brilliant and requiring a post unto itself) by Tom Crosshill. Most of what was presented simply reaffirmed what I already knew, but also showed me news ways of approaching the same problems, and gave me a fresh perspective on how to approach short story writing.
Then the critique part of the workshop. My story was one of three being discussed. My hands were shaking as I eyed my fellow workshoppers wondering just how far they'd take the critique since Finns are known to be rather blunt. No idea why I worried though. The critique from Alliette and Tom was positive, polite, constructive and encouraging. The response from the others in the workshop even more positive and all criticism was dished out with a healthy dose of encouragement. It was the same for all three works. Now I regret not submitting an unpublished work but you live and learn. And I learned a lot today, not just from the critique given to me but from the critique of the other stories and the varying responses of the other reader/writers in the group to three very different short stories.
In short, what I took away from today:
1) Major confidence boost as it seems I am not completely without talent.
2) Reality check as raw talent alone is not enough to make it in this industry.
3) Renewed enthusiasm for writing because there are people who like my writing and want to read more.
4) I will never please everyone. The best thing for me to do as an author is to write what makes me happy in a way that will allow other people to read and enjoy it too.
Have you ever been to workshop like this? How do you handle critique?