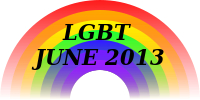 June was international Pride month, celebrating all things QUILTBAG. Yesterday, we joined the Helsinki pride parade as it trailed rainbows from the Senate Square to the park near Finlandia Hall for the annual Pride picnic. Despite a rainy morning, the weather co-operated and the parade marched unimpeded by drizzle.
It was a wonderful, festive and uplifting day spent in the company of proud and happy people across all variations of the gender/sexuality spectrum and across all ages. It was a peaceful event supported by Helsinki city services including the fire department, which gave away free balloons at the picnic. Finns and foreigners alike, gathered beneath rainbow banners to celebrate diversity.
Pride is a highlight of the summer and I am so grateful that Finland is so open and supportive of the parade. No tear gas, no arrests, no hostility, so unlike what our Russian neighbours experienced in St Petersburg. If you participated in or watched a Pride parade this month, please leave a comment – I'd love to hear about your experience!
And being the last day of June, this also brings the LGBT giveaway to an end. Thank you to everyone who left the names of QUILTBAG heroes for my new feature starting in July. I look forward to sharing these real and fictional role models with you.