Today I'd like to welcome Brian Lewis to Off the Page talking about balancing life as both an author and editor.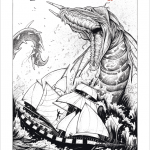 Brian Lewis is the founder and editor-in-chief of Spark: A Creative Anthology, established Fall 2012 as a cross-genre paying market for talented authors and poets. He is an alumnus of the California State Summer School for the Arts and a member of the Editorial Freelancers Association. He supports his habits of writing, editing, and publishing with a day job as a senior software engineer, and is in turn supported and encouraged by his wife and eight children.
1. You are an editor and a writer. Do you have to get into the writing or editing 'mode' for certain tasks, or can you switch easily between the two?
I have found that my personal editor/writer modes aren't that different. That's probably why I felt comfortable slipping into the editor role for Spark — I do notice the details that need to be enhanced or corrected, but I also understand the process from the viewpoint of a writer.
2. Tell us about Spark and what makes this publication different?
I founded Spark as a market for showcasing new talent alongside established authors and poets—without sacrificing quality for the sake of "giving the new guy a chance." There are other publications that have similar goals, but what makes us different is our hard focus on quality writing and great storytelling above genre and experience. On the first read through each submission, the submission is "blind" — we don't see the cover letter, publication history, or author bio. We don't even see the name, other than what was included on the manuscript. That gives us the opportunity to really focus first on the writing.
Another difference is our refusal to assign a "genre" to the anthology. Although some of our accepted submissions have clearly been genre pieces, the anthology as a whole is an exciting place to showcase great work across genres, from literary to western to speculative fiction.
3. What draws you to speculative fiction?
To me, speculative fiction is all about what's possible. Each subcategory does it in different ways: Fantasy tells us what's possible when we close our eyes and imagine life without the constraints of our world; Sci-Fi tells us what's possible if we continue exploring the amazing science of technology we already have; Steampunk tells us what's possible with human ingenuity—it's not bound by electricity, microcircuits, supermagnets, but would have bloomed even without those particular advancements. Other categories take still different approaches, but the one thing they all have in common is the celebration of what's possible.
4. How have you found working with some of the bigger names in the genre? Do you manage to keep it professional or do you have fanboy moments?
Email and even Facebook chat have both been great for working with published names like Chad Morris, Brad R. Torgersen, Robert J. Sawyer, and David Farland/Dave Wolverton. That kind of communication allows me to sound as professional as I can possibly write, while also having my fanboy squeals behind the screen. But what I've consistently found and been amazed by is how approachable these people are, and how genuinely delighted they are to help. That has actually enabled me to me increasingly less awestruck and more professionally grateful, because they treat my like a peer and a friend in our communication, even though I know perfectly well I'm not in their league—barely even the same star system.
I will admit, though that I got a little tongue-tied when I met Brandon Mull in person and told him about Spark. And then, walking away from that chat, two minutes later I met Christopher Paolini, and ended up stuttering my way into giving him my pre-publication editor's copy of Volume I. The kid is half my age, and was very gracious, but I still went a bit "fanboy." It's true.
5. There are many fledgling publications that never make it beyond the first year, what do you think it takes for a publication to be successful year after year?
I honestly don't know yet—ask me again in a year? Certainly for me there's a lot of vision, and also willingness to put myself out there and take risks. But there's also a lot of hard work; between Spark and my day job, there have been a lot of nights where I've gotten no sleep. That was easy when I was in my twenties. Now, it's physically exhausting—but the vision, and the excitement of seeing it become a reality, keeps me going.
6. What's your opinion on ebooks – fad or here to stay? Worst thing or best thing for the industry?
I'm a huge fan of physical books—for many of my favorite passages, I remember not only the words themselves, but where on the page they occurred. I love the feel of books, I love their permanence. That's actually part of the reason I insisted on releasing Spark in print format—I really want to emphasize the lasting value I see in the works selected for inclusion.
At the same time, though, I'm also a huge fan of technology. I love the convenience and portability of eBooks, and the immediate access when I want something to read. I love the fact that I can keep loading more books onto an eReader, even after I've run out of room on my bookshelves. My kids are voracious readers, too, so being able to get them something to read when we can't make it to the local library or bookstore is wonderful.
My take from a reader's standpoint, then, is that while physical books are not dead—and not likely to go away soon—eBooks are absolutely a great advancement, and they are here to stay.
From a writer/editor/publisher standpoint, I absolutely see how eBooks have changed the face of publishing, but it's not just the eBooks by themselves—it's the fact that self-publishing in any format has become so accessible. Where the past options were Traditional Publishing or Vanity Press, the combination of eBooks and Print-On-Demand has slowly given small presses and individual authors more power in the marketplace, and in turn, more choice to readers. But as the old saying goes, "With great power comes great responsibility." The responsibility for quality writing, for good storytelling, for marketing, layout, cover art, etc. is now on the self-publishing authors and small presses. Some have taken that responsibility seriously and been very successful.
7. And now just for fun, what's the one speculative fiction book you wish you'd written and why?
Ray Bradbury's The Illustrated Man. I was in seventh grade the first time I read it, and it affected me profoundly—it was my first real introduction to the format, and I was amazed at just how much story could fit in to a short story. I had just finished reading The Lord of the Rings and The Hobbit, so I was very much under the impression that great stories were multi-volume epics; The Illustrated Man actually steered me away from that notion and inspired me to explore shorter fiction, both as a reader and as a writer.
Click on the image above to find out more about Spark, including their submission guidelines.