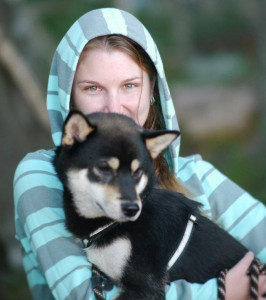 In a Nutshell:
Suzanne is a tattooed storyteller from South Africa. She currently lives in Sweden and is busy making friends with the ghosts of her Viking ancestors. Although she has a Master's degree in music, Suzanne prefers conjuring strange worlds and creating quirky characters. When she grows up, she wants to be an elf – until then, she spends her time (when not writing) wall climbing, buying far too many books, and entertaining her shiba inu, Lego.
Suzanne is represented by Jordy Albert of the Booker Albert Agency.
The Longer Story:
Suzanne was born and raised in the urban sprawl of Johannesburg, South Africa. As a child she spent a great deal of time staring at the clouds making up stories for the animals that lived amongst the cumulus. As soon as she could read, Suzanne devoured books, munching through the shelves of various libraries.
She wrote her first novel at 11 and, as with most novels written by 11-year-olds, it was over ambitious and badly spelled but it was the beginning. It was tricky finding time to write between dancing, horse riding, fluting, piano'ing, hockey'ing, and many other extracurricular activities ending in -ing. And then she went to university.
The world of academia stemmed the creative tide as Suzanne completed a Bachelor's degree in music education and technology. She also met Mark, with whom she fell madly in love despite his affection for NOFX.
After a brief stay in Perth, Australia, Suzanne headed for the cold, dark wastelands of Finland (Mark and his NOFX collection came too) to pursue a Master's in Music, Mind and Technology. (A vague way of saying everything music related besides actually playing an instrument). Suzanne has since jumped across the Baltic to reside in Stockholm, Sweden where she plans to track down the ghosts of her Viking ancestors.
Thanks to a friend, Suzanne discovered NaNoWriMo. Her first attempt at writing 50 000 words in a month resulted in the novel Dragon's Teeth, which found a home with the small press Divertir Publishing, LLC. Since then, Suzanne has signed with agent Jordy Albert and has since found homes for three more novels. The latest, I Heart Robot, is due out March 2015 from Month9Books.
Suzanne's 'day job' includes being the publicity manager for US small press Anaiah Press, a freelance writer and editor, and a dance and music teacher to a bunch of middle schoolers. When not busy with all of that, Suzanne indulges her peanut-butter addiction and spends a great deal of time playing with her shiba inu, Lego.
Additionally, Suzanne identifies as genderqueer and hopes that one day all people everywhere will be free to love whomever they choose.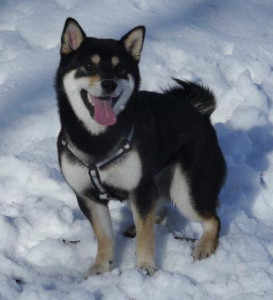 Favourite fiction authors: Poppy Z Brite, Neil Gaiman, Maggie Stiefvater, Cath Crowley, Patrick Rothfuss, David Mitchell, Ursula K. Le Guin and Jack Kerouac.
Favourite non-fiction authors: Evan Wright and Jon Krakauer.
Favourite poets: Edgar Allan Poe, Charles Baudelaire, W. B. Yeats, Walt Whitman, and John Keats.
Favourite movies: Mr Nobody, Across the Universe, Into the Wild, Imaginary Heroes, Sunshine, and Equilibrium.
Favourtie TV series: White Collar, Penny Dreadful, The West Wing, and Game of Thrones.
Favourite Bands/Musicians: Nightwish, Placebo, Our Lady Peace, In Flames, Imagine Dragons, The Boxer Rebellion, and Florence + the Machine.
*Please note, I am an Amazon Associate so if you click on any Amazon 'buy now' link you see on this site and buy the book, I'll earn a tiny percentage from that sale.