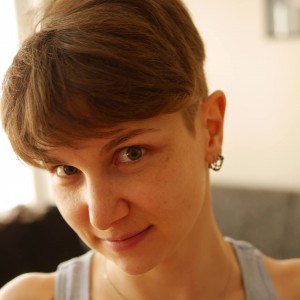 In a Nutshell:
Suzanne is a tattooed storyteller from South Africa. She currently lives in Finland where she finds the heavy metal soothing and the cold, dark forests inspiring. Although she has a Master's degree in music, Suzanne prefers conjuring strange worlds and creating quirky characters. When she grows up, she wants to be an elf – until then, she spends her time (when not writing) climbing, buying far too many books, and entertaining her shiba inu, Lego.
The Longer Story:
Suzanne was born and raised in the urban sprawl of Johannesburg, South Africa. As a child she spent a great deal of time staring at the clouds making up stories for the animals that lived amongst the cumulus. As soon as she could read, Suzanne devoured books, munching through the shelves of various libraries.
She wrote her first novel at 11 and, as with most novels written by 11-year-olds, it was over ambitious and badly spelled but it was the beginning. It was tricky finding time to write between dancing, horse riding, fluting, piano'ing, hockey'ing, and many other extracurricular activities ending in -ing. And then she went to university.
The world of academia stemmed the creative tide as Suzanne completed a Bachelor's degree in music education and technology. She also met Mark, with whom she fell madly in love despite his affection for NOFX.
After a brief stay in Perth, Australia, Suzanne headed for the cold, dark wastelands of Finland (Mark and his NOFX collection came too) to pursue a Master's in Music, Mind and Technology. (A vague way of saying everything music related besides actually playing an instrument). Suzanne then jumped across the Baltic to reside in Stockholm, Sweden where she spent 19 months tracking down the ghosts of her Viking ancestors, before returning to Helsinki, Finland.
Thanks to a friend, Suzanne discovered NaNoWriMo. Her first attempt at writing 50 000 words in a month resulted in the novel Dragon's Teeth, which found a home with the small press Divertir Publishing, LLC. Since then, Suzanne has had three more novels published.
Her new adult debut, Scardust, released February 2016 by Entangled Publishing and Obscura Burning has since found a new home and will be released November 10 2016 by Harmony Ink Press.
When not writing, Suzanne indulges her peanut-butter addiction and spends a great deal of time entertaining her shiba inu, Lego.