Tricks can be fun, but TREATS are way better. And this contest gives you a chance to win a ton of treats in the form of signed books, ebooks, candy, book swag and more from 13 authors!! We know…it's kind of SPOOK-TACULAR! 

So WHAT WILL YOU WIN??
A creepy-awesome black canvas tote bag with a cool skull on the cover, filled with each of the books noted below as well as bookmarks and other great book swag. You will also win all of the treats that the author's list on their pages PLUS a bunch of other candy treats all in a black plastic cauldron. You'll even get the cute little plastic skulls shown in the prize photo.

LIST OF PARTICIPATING AUTHORS and their AWESOME BOOKS! 
Amy McNulty – NOBODY'S GODDESS (advanced paperback)
Kiran Oliver – DAYBREAK RISING (ebook)
Dorothy Dreyer – SCARE ME TO SLEEP (Kindle ebook)
Jodie Andrefski – THE SOCIETY (signed paperback)
Julia Ember – UNICORN TRACKS (paperback)
Julie Reece – THE ARTISANS (signed paperback)
Nina Rossing – FJORD BLUE (signed paperback)
Pat Edsen – BEYOND YOUR TOUCH
Pintip Dunn – FORGET TOMORROW (signed paperback)
S.A.Larsen – MOTLEY EDUCATION (signed paperback)
Suzanne van Rooyen – OBSCURA BURNING (Releases 11/10 ebook)
Vanessa Barneveld – THIS IS YOUR AFTERLIFE (Kindle ebook)
Vicki Weavil – FACSIMILE (signed paperback)

SO HOW DO YOU SNAG THE LOOT?
It's simple, and you don't even have to dress up and walk in the cold, door to door, to get the goodies. Visit each of the THIRTEEN participating author websites. You will find the name of the candy/treat they are giving away, as well as what BOOK they are offering as part of the PRIZE PACK!  Be sure to write down the name of the treat, you'll need it later. Each author will provide a link to another author website on the hunt. (We are making it nice and easy so you don't get lost in the dark) =)
Have fun reading all about the books each author is giving away in the prize pack, plus any other tricks and treats the authors may have in store for you.
When you have collected the names of all 13 author "TREATS", head on over to complete the Trick or Treat Hunt Page Google Forms doc  and enter the correct treat next to the corresponding author name. 
The contest runs from Friday October 28th, 2016 through Midnight, October 31st, 2016 (EST)
Winner will be announced November 1st.
Contest is US only. Thank you for your understanding.
For my part of the hunt, I am giving away an ebook copy of the brand new
OBSCURA BURNING!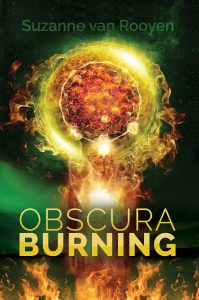 There'll also be some candy to go along with it, a trick or treat classic, a HERSHEY'S BAR!
To continue on the hunt, be sure to head on over to
Amy Mcnulty's blog!
But before you head out, don't forget to write down the name of my treat, and  enter to win via the rafflecopter below. Feel free to leave a comment telling me YOUR favorite Halloween read for an additional entry too. Remember, you can tweet daily about the contest for another chance to win. Happy hunting, and good luck!! Thanks for stopping by!