Today I'm pleased to welcome Jamie Merchant to the blog, chatting about how her book The Soul Stone came to be published.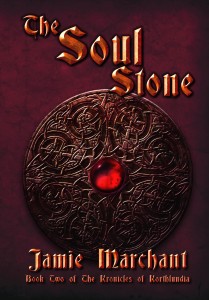 How The Soul Stone Came to Be Published
by Jamie Merchant
Getting a 178,000 word novel published is not an easy feat, but it was the one facing me with my first novel,The Goddess's Choice. The ubiquitous "they" say that a first novel can't be over 100,000 words. Personally, I love long novels. If it's good, the longer the better, but the economics of publishing have turned against the long novel. Still, I had cut the novel down as far as I could without ruining it. It started out at 320,000 words.
I began by trying to find an agent because an agent is almost absolutely necessary to get published by the Big 5 publishers. However, I had no luck in doing so. The agents who bothered to respond almost all told me that the book was simply too long.
I decided I had a choice between self-publishing and looking into a smaller publisher. I didn't want to self-publish. Although some excellent work is self-published, there is a stigma against it because too many people self-publish work before it is ready. Too often, self-published work hasn't even been properly edited, let alone had the plot and characters fully developed. So I decided to send out to smaller presses. Very quickly Reliquary Press replied with an offer to publish the book. I was overjoyed. My first novel was going to make it to the public.
However, there was a very important thing about small presses that I didn't understand. They have little budget for promoting your work. Most of the promotion must be done by the author herself. Unfortunately, no one, including the publisher, had told me this, and I sat back and waited for it to sell. It didn't. Eventually, I realized that if it was going to sell, I was going to have to do the work. I got busy, and more copies sold.
By the time I finished The Soul Stone,my second novel, I didn't want to submit to the same publisher, but I believed that since The Soul Stone was a sequel to The Goddess's Choice, no publisher would take it. Even though The Soul Stone can stand on its own and doesn't require prior knowledge of The Goddess's Choice, I believed, wrongly as it turns out, that no one would be interested in the sequel if they hadn't published the original. I was convinced that I would need to self-publish.
My husband was against the idea and insisted that I had no way of knowing if a publisher would accept it if I didn't try. To appease him, but having no hope, I submitted the manuscript to several small press and got three offers. I choose to go with Black Rose Writing because they had the most support for the author in promotion. The author still needs to do most of the work (something that any aspiring writer needs to realize), but Black Rose helps to guide the author in what to do.
Getting a book published is not easy, but if you take time to perfect the work and grow as a writer, it is possible. My advice to any other would be not to self-publishing too soon. Make sure you have truly produced the best work you are capable of before taking it to the public, for they are more than capable of recognizing shoddy work and holding it against you.
About The Soul Stone:
The Crown Princess Samantha and Sir Robrek struggle to solidify their rule in the aftermath of the king's murder and Duke Argblutal's attempt to usurp the throne. They are thwarted at every turn by those who seek power for themselves and desire to prevent their marriage. Just when they think their problems are solved, a deadly curse begins to spread throughout Korthlundia and Samantha becomes pregnant.
Samantha must fight off priests, enemies, and her closest advisors while Robrek discovers the reason the goddess chose him as king, to defeat the Soul Stone, a stone capable of sucking the soul out of its victims, which threatens to obliterate all life in the joined kingdoms. Their archenemy, the Bard Alvabane, awakens the Soul Stone and plans to use its power to reclaim Korthlundia for her people (a people driven out over a thousand years ago by the hero Armunn). Armunn had to sacrifice his life and soul to contain the Soul Stone. Will Robrek have to do the same? Will the young couple have only a few short months to love each other?
Black Rose Writing | Amazon | Barnes and Noble
About the Author:
From early childhood, Jamie has been immersed in books. Her mother, an avid reader, read to her, and her older sister filled her head with fairy tales. Taking into consideration her love for literature and the challenges of supporting herself as a writer, she pursued a Ph.D. in American literature, which she received in 1998. She started teaching writing and literature at Auburn University. But in doing so, she put her true passion on the backburner and neglected her muse. Then one day, in the midst of writing a piece of literary criticism, she realized that what she wanted to be doing was writing fantasy novels. Her muse thus revived, she began the book that was to becomeThe Goddess's Choice, which was published in April 2012. The second volume in the series, The Soul Stone, was released this June.
She lives in Auburn, Alabama, with her husband, son, and four cats, which (or so she's been told) officially makes her a cat lady. She still teaches writing and literature at Auburn University. Her short fiction has been published on Short-Story.Me, and my story was chosen for inclusion in their annual anthology. It has also appeared in the anthologies—Urban Fantasy (KY Story, 2013) and Of Dragon and Magic: Tales of the Lost Worlds (Witty Bard Publishing, 2014)—The World of Myth, A Writer's Haven, and Bards & Sages.