Troubled teen Eli Nunn is moved back to Kansas City following the aftermath of a violent drug deal. Returning to a school where his ruthless reputation still thrives, Eli encounters and instantly connects with Angel, a beautiful and mysterious black-clad orphan. Their flourishing romance begins to grow darker when Eli learns details of Angel's chilling past. Conflicted with alarm and intrigue, Eli accepts a proposal from Angel that puts both their relationship and lives in danger.
First, tell me a little about your book and why you wanted to write this particular story….
The Angel at the Devil's Gate is a psychological suspense about Eli and Angel, two teenage outcasts whose flourishing romance takes a dark turn when secrets and murder puts both their relationship and lives in danger.
I was always drawn to the villain in stories and television shows, even as a child. I was always curious to know their backstory, to know what made the darkness so alluring to them. I knew I wanted to attempt a novel where the protagonists would be considered the villain in any other story; however, I wasn't quite sure how to go about that. It wasn't until watching a marathon on true crime investigations on the ID channel that I was given a direction on how to write the novel.
Do you recall how your interest in writing originated or did you always just know?
I always had an active imagination as a kid. I could stay in my room for hours just thinking up scary scenarios. I'm unsure if I can pinpoint how my love for writing came about, but I do believe my interest in horror movies as a child played an immense part with my interest in writing. I remember directly after watching A Nightmare on Elm Street going to a notebook and writing a story about a monster who lives in your dreams.
Are experiences based on someone you know, or events in your own life?
I wrote Eli and Angel to be metaphors for the outsider within us all. I use how both characters react to their differences from my own experiences. While I was younger, I was angry that I did not wholly belong, and as I got older, I become more apathetic, embracing how different I was and finding beauty in it. I like to put a little of myself into my writing as metaphors, but I haven't yet based anything on an event in my life; it's only been sentiments so far.
Out of all the characters in your book, who is your favorite to write? There's always a fan favorite to read about but sometimes it's the side characters that are the most fun.
I had the most fun with Angel. That character has a hold on me and refuses to let go. I think it's how brave Angel is that really makes me admire the character. Angel can be in the worst of situations and find a way out of it.
Is your book part of a series, and if so, how many will there be?
A follow-up to The Angel at the Devil's Gate can be very tricky, and it'll take a lot of plotting to achieve; I'm unsure if I can make it work. I've given it a little thought, nonetheless. I do have a companion short story called The Angel of Death, which will be available to backers who help fund the publication of The Angel at the Devil's Gate on Kickstarter.
What are you working on now?
I'm in the tedious editing process of The Possession of Susan Rite, a horror novel, which will also be rewarded to backers who support my project on Kickstarter upon the novel's completion. I finished the first draft of the novel four years ago, right before I began writing The Angel at the Devil's Gate. After really submerging myself in research on demonic possession to give the novel a more authentic feel, I went back to editing it. I'm very proud of the outcome of it.
Is there anything you find particularly challenging in your writing?
Writing a character who has a completely different viewpoint from me is a bit of a challenge, because I want them to sound and act authentic. I found this issue in Eli. Eli speaks totally different from me, not only does he have a heavy southern accent that I wanted to be seen in the writing, he uses improper grammar as well. When readers see that in the pages, their mind tells them that the character isn't intelligent, which isn't the case with Eli. He isn't book smart like Angel, but he has his own intelligences. It was a challenge to make him a believable character. Scenery is also a challenge for me. I want the reader to be in the scene with me, but I don't want the leaden the pages with details, doing so can take away from the story. I think Stephen King has that method down perfectly.
Find out more and support the Kickstarter for this project over here:
Kickstarter for The Angel at the Devil's Gate
About the Author: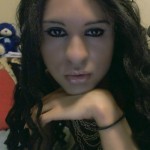 I was born and raised in Kansas City, Missouri, and like most writers, I had a passion for writing as a child; however, I was terribly shy (I still am to a certain extent) and refused to enter any writing competitions or show my writing to anyone but my mother and brother. Nonetheless, I knew I wanted to be an author and it's a dream I strive to achieve. I attended the University of Central Missouri for journalism with a minor in creative writing. I'm currently in the tedious yet delightful (sometimes) editing process of my second novel, The Possession of Susan Rite, and doing research for my third novel. If you have any questions or just want to chat, you can reach me on Twitter at my VERY original handle name: Mocha_Writer.