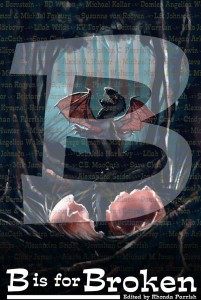 Broken people, broken promises, broken dreams and broken objects are just some of the ways these 26 fantastic stories interpret the theme of 'Broken'. From science fiction to fantasy, horror to superheroes the stories within these pages cover a vast swath of the genres under the speculative fiction umbrella.
Featuring all new original fiction by:
~ Brittany Warman ~ Milo James Fowler ~ C.S. MacCath ~ Sara Cleto ~ Samantha Kymmell-Harvey ~ Megan Arkenberg ~ Gary B. Phillips ~ Alexandra Seidel ~ Jonathan C. Parrish ~ Simon Kewin ~ Beth Cato ~ Cory Cone ~ Cindy James ~ Alexis A. Hunter ~ Michael M. Jones ~ Steve Bornstein ~ BD Wilson ~ Michael Kellar ~ Damien Angelica Walters ~ Marge Simon ~ Michael Fosburg ~ Suzanne van Rooyen ~ L.S. Johnson ~ Pete Aldin ~ Gabrielle Harbowy ~ Lilah Wild ~ KV Taylor ~
Praise for B is for Broken:
"This collection is a massive and magnificent assortment of truly enjoyable stories. There is simply no way to read this book and not find a story you can connect with or love. This is the book to have in your travel bag. In it you are sure to find a tale to fit any mood. Each time you open it, a new adventure begins."
~ Anita Allen, Assistant Publisher/Editor, Mythic Delirium Books
And here's an excerpt from my story, U is for … :
Satisfied she was alone, Victoria laid the leg beside the shrouded body on her exam table. Gently, she peeled away the sheet, revealing his exquisite face. She never got tired of looking at him. She brushed soft black hair from the android's face before placing a tender kiss on each sleeping eyelid. His long lashes tickled her lips and turned the desire aching in her bones into a hungry, fanged creature chewing on her insides. The lashes swept indigo shadows beneath the eyes, shadows she trailed with an index finger to his full lips, rosebud pink, replete with delicate grooves carved into cupid bows.

He was almost done.