Today I'm pleased to welcome Dylan Peters to Off the Page chatting about his latest book, Everflame.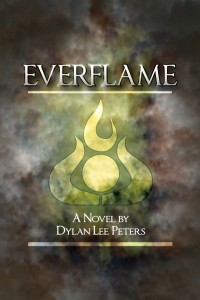 Did you grow up knowing you wanted to be a writer?
No. In fact, if you had told me ten years ago that I would be working on my fifth book now, I wouldn't have believed you. While I was going to school for graphic design, I had to take a creative writing class and my professor was impressed enough with my writing that she suggested I try to have something published. A couple months later, I woke from a dream and began Everflame. Everything just fell in place from there.
What inspired your book Everflame?
The initial concept came from a dream. I've always been a very lucid dreamer, and I can usually remember most of my dreams when I wake in the morning. In the dream that inspired the beginnings of Everflame, I was Evercloud, tied to the tree, unable to move. I began to write when I woke that morning and the rest of the story followed just as if it had been there all along, waiting to be written. Many of my dreams find their way into my books. It's just a matter of changing names, locations, and circumstances so that they fit the overall story. I suppose I should count myself lucky that I have such an overactive imagination.
Which authors or book have had the biggest influence on your writing?
Ayn Rand is the author I have derived the most enjoyment and inspiration from. Anthem would probably be my favorite among her works. Just say the word dystopia and I'm in.  Its mix of science fiction, Rand's philosophy, and self-righteous rebellion keep me coming back, over and over. It's a very quick read and I think that is partly what inspired me to make the Everflame books rapid reads. It is the only book I have had to purchase multiple times because I give my copy away in an effort to get people hooked on Rand. Best quote: "But what is freedom? Freedom from what? There is nothing to take a man's freedom away from him, save other men. To be free, a man must be free of his brothers. That is freedom. That and nothing else."
I love the cover for Everflame, can you give us a little background info on the design?
I am a graphic designer by day, so I do my own design for my book covers. When thinking about the cover for Everflame, I wanted to create a striking logo. In my opinion, logos are what stay with people, and make your product easily identifiable. So in my creation of the logo, obviously a flame came to mind. I wanted the logo to be accompanied by a background that seemed mysterious and clouded, as the first book of the Everflame series is concerned with mysterious origins.
Can you tell us about any new works or works-in-progress we can look forward to?
The project I am currently working on is called The Dean Machine, and I hope to release it before the end of the year. This will be the first book I've written that will not be part of a series, so I'm interested to see how that goes. My inspiration for the novel came from a rescue dog I adopted who was named Dean. Here's the book blurb:
Dan Delacor was a normal citizen of Yellow City. He put on his yellow shoes, and yellow tie, and took the Tunnel Runner from the suburbs into downtown, every day. He had a job, lived with his loving, yellow-haired girlfriend, and never wondered what waited beyond the great glass wall that surrounded Yellow City.
Sure, he wondered why people at his work annoyed him so much, he wondered why everything in Yellow City had to be yellow, he wondered why he suffered constant anxiety attacks, and he wondered why he couldn't help himself from strolling through dangerous neighborhoods, or running wildly through the wheat fields that separated downtown from the suburbs. Mostly though, Dan Delacor wondered how he had lost most of his right arm, and he wondered why he couldn't remember anything before five years ago.
So, when Dan's mysterious yellow world is interrupted with the seemingly impossible presence of a little, red dog, the man can't help but wonder why. Unfortunately for Dan, what he finds leaves him running for his life, doubting everything he knows, and wondering what side of the glass wall he is really on.
Quick, it's the zombie apocalypse! If you could choose any author to be your survival buddy, who would you choose and why?
I would choose whichever author was the slowest. It would make escaping the zombies easier if they were preoccupied with someone else. I'm kind of a loner.