I am currently reading an amazing short story collection entitled Sing Me Your Scars. It's a little bit Gaiman, a little bit Brite, and a whole lot of awesome. I'll be writing a full review of the anthology when I'm done for South Speculative Fiction Review, but in the mean time, I got to chat to the fabulous author of these stories, Damien Angelica Walters.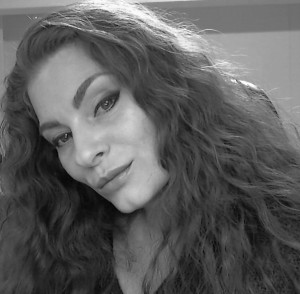 1) Tell us a bit about yourself. Who is Damien Angelica Walters?
DAW: She's a writer with a penchant forAlien, Star Wars, dinosaurs, dark chocolate, and red wine, not necessarily in that order. She's also a retired bellydancer who lives in Maryland, near Annapolis, and has two rescued pit bulls, Kane and Ripley. When she counts by two, she does so in odd numbers, starting from 0, but she has no explanation as to why. Her favorite colors are orange and green, her favorite piece of art is "Flaming June" by Frederic Lord Leighton, and Damien is her real name, not a nom de plume.
Damien Angelica Walters' short fiction has appeared in various magazines and anthologies, including Year's Best Weird Fiction Volume One,The Best of Electric Velocipede, Strange Horizons, Nightmare, Lightspeed, Shimmer, Apex, What Fates Impose, and Glitter & Mayhem. Forthcoming in 2015: Sing Me Your Scars, a collection of her short fiction, from Apex Publications and Paper Tigers, a novel, from Dark House Press.
You can find her on Twitter @DamienAWalters or online at http://damienangelicawalters.com.
2) I love the title, Sing Me Your Scars. It's provocative and poetic – can you tell us what inspired the title?
DAW: I knew I wanted to use one of the story titles for the collection entire and wanted something that encompassed the general tone. I narrowed it down to Like Origami in Water and Sing Me Your Scars, asked a few writer friends for their opinions, and ultimately chose the latter. Without giving too much away, the story itself is an homage to Mary Shelley and her creation.
3) You're a short story writer and a novelist. What do you find most challenging about switching between the two?
DAW: Novels and short stories require different skill sets. I don't think switching between the two is necessarily challenging, it's more of a changing of the toolbox and the focus. I like the freedom of the short form, the ability to experiment with form and voice and tense, but I also like the deeper exploration of a character that a novel allows.
4) What can you tell us about your forthcoming novel, Paper Tigers. Another great title, by the way!
DAW: Thank you! Paper Tigers is about a disfigured young woman and an old photo album she finds at a thrift store. It's partly a haunted house story and partly a ghost story, but the ghosts are both external and internal. It's very different from my first novel, Ink, and closer, I think, in flavor to my short fiction.
5) You've also been an editor – for Electric Velocipede no less! – how do you think being an editor has influenced your writing?
DAW: I hope it's made me a better writer, but I know it's made me more cognizant of the importance of a good first line, setting the scenes properly, and ending on the right note. It's also made me appreciate reading short stories I don't care for and spotting exactly why they're effective stories.
6) What attracts you to speculative fiction?
DAW: It's the what-if, the magic, the mystery. It's the ability to tell a very human story in a strange way. To dream up monsters and the monstrous, peel back the layers, and see what makes them tick. To use pretty metaphors to talk about ugly things. It's a playground of possibility that non-speculative fiction doesn't hold for me.
7) What's next, more short stories or perhaps another novel?
DAW: I have short fiction forthcoming in several anthologies and magazines including the UK zine Black Static and Cassilda's Song, edited by Joe Pulver, a King in Yellow anthology of all new stories written by women. I'm also working on more short fiction, as well as a portmanteau novel.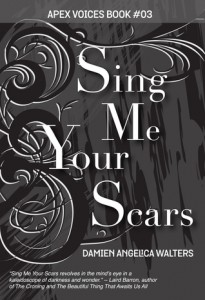 Sometimes a thread pulled through the flesh is all that holds you together. Sometimes the blade of a knife or the point of a nail is the only way you know you're real. When pain becomes art and a quarter is buried deep within in you, all you want is to be seen, to have value, to be loved. But love can be fragile, folded into an origami elephant while you disappear, carried on the musical notes that build a bridge, or woven into an illusion so real, so perfect that you can fool yourself for a little while. Paper crumples, bridges fall, and illusions come to an end. Then you must pick up the pieces, stitch yourself back together, and shed your fear, because that is when you find out what you are truly made of and lift your voice, that is when you Sing Me Your Scars. 
In her first collection of short fiction, Damien Angelica Walters weaves her lyrical voice through suffering and sorrow, teasing out the truth and discovering hope.