December has been a crazy busy month. For the first two weeks, my husband was in Sweden starting his new job leaving me alone to pack, take care of our fur-child, and wrap up the end of the school term complete with Christmas concerts, reports cards and more. The rest of the month was spent packing, moving, unpacking and recovering. Not a lot of time for writing was had but I'm super happy to say that our new place in Sweden is stunning! Our garden backs onto forest and we live a stone's throw from a culture reserve preserving Bronze Age and Viking artifacts, which is unbelievably cool. Also, we got snow for Christmas so despite the chaos of the month, December has ended well. Here goes…
Things I'm happy I did in 2014:
1. Completing edits on I Heart Robot!
2. Finally finishing Scardust and getting the ms to a point where my agent could take in on submission – still can't quite believe I finally finished that story!
3. Attending my first big writing conventions and getting to meet some awesome authors IRL.
4. Joining a writer's group and going to meetings with other authors – I learned so much and had so much fun!
4. Embracing who I am and starting to live more authentically – this has had a huge impact on my writing.
In 2015, I want to…
1. Celebrate the release of I Heart Robot despite feeling fairly isolated in a new country.
2. Join a Swedish writer's group and start making new friends in the writerly world here.
3. Attend more cons if I can.
4. Write stories that scare me.
5. Continue to live authentically.
And now for the WIP stats…
Last report WC for WIP: 29, 369
Current report WC for WIP:  35, 899 – I guess it's better than nothing, right?
In a blitz attack of inspiration last night, I also managed to write a thousand word synopsis for a YA/NA story I've very excited about and also terrified by so let's see what happens with that in the new year.
Writing Issues This Month:
Um, the move. A lack of time. General inability to focus on anything besides starting a new life in Sweden.
Four things I learned this month, only some about writing:
1. You won't learn something new about writing every month and that's okay.
2. Be grateful when inspiration strikes and run with it.
3. I discovered the joy that is Yollibox frozen yoghurt. This has made the move to Sweden worthwhile. It also has the potential to make me fat. I shall proceed to sample all the deliciousness in moderation… yeah right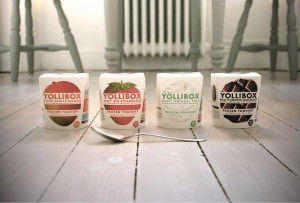 4. There's little better for brainstorming a story than strolling through the frosty countryside with pooch in tow – more like running ahead with glee – with the sunshine reflected off snow and my breath icing up my scarf.
What distracted me this month while writing:
Packing. Moving. Unpacking. Exhaustion. 
But we made it and aside from a few lingering empty boxes needing to go into storage we're pretty much settled!

Goal for next month: Finish the WIP – My goal WC is 50k so that seems an achievable goal. Research for SNI and expand synopsis into workable outline – perhaps start writing. Plan for major rewrite of beloved older work that needs an overhaul before going to my agent.
Last 200 words: Nothing really new here so how about the blurb for that SNI? Let me know if you think this story has potential or if I'm wasting my time. Bear in mind this blurb was thrown together last night so it's nowhere near perfect.
Home from Iraq with scars on his skin and ghosts in his head, Griffin Reed finds settling back into 'normal life' more difficult than taking out insurgents. The twenty-year-old veteran finally feels like he's starting to get a grip when he lands a janitorial job at the prestigious Stonyvale Academy. In the downstairs bathroom, Griffin discovers a litany to angst and sadness Sharpied onto the stalls. One set of handwriting stands out: a scrawl of poetry and lyrics Griffin recognizes. Feeling a weird connection to the vandal, Griffin starts responding with messages of his own. 

Eighteen-year-old Chelsea Ortiz hates the uniform she's expected to wear at snooty-nosed Stonyvale. Outside of school, Charlie wouldn't be caught dead in a skirt, which is one of the reasons Charlie spends lunch hour in the bathroom inking the stalls. Just when Charlie wonders how to disappear completely a mysterious reply appears on the bathroom door.

As Griffin and Charlie take comfort in graffitied lines, their lives start to crumble around them until Griffin confesses to being on the verge of ending it all. Unable to handle the thought of losing the only human being who seems to understand, Charlie plans to confront the anonymous message-writer.  

Will the friendship forged on bathroom walls be enough to save them from their demons or will coming face to face with who they are destroy any chance of happiness?
And that's it for December. How did you do? What are your plans for 2015?