Josh will have to reconcile his past…
In order to make Kat his future.
After surviving a real-life nightmare, Josh Wagner is sent home from his dream college on crutches. Bedridden and tormented by flashbacks, he's just seen his world shattered and his baseball scholarship go up in smoke. Josh's family hires a health aide to help take care of him, but when he opens the door, the last person he expects to see is his biggest regret…
Katherine Singleton is the only girl Josh has ever loved. Now, even though she's only taking care of him because it's her job, Josh is determined to win her back. But Kat had to move on after their breakup two years ago, and despite her feelings for Josh, a lot has happened since he left…
When Kat's past comes back to haunt her, Josh decides it's his turn to take care of her. But protecting her—and redeeming himself—will put Josh in the line of fire again. Will he survive this time?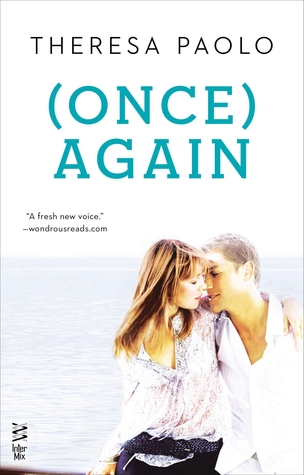 Excerpt:
Her small hand reached out to my hair and ran through it. I closed my eyes, bringing forward all the memories I'd stored away.
The chase. The catch. The loss.
She leaned back, holding a blade of grass she'd pulled from my hair. A single touch and I wanted more. I glanced at the grass and then my eyes travelled to her hand, particularly to the ring covering the
tattoo I knew was on her ring finger. Funny. Mine was covered by a ring too. Better to be hidden than reminded of my biggest regret.
"So you do remember my name," I said as I flashed my most charming smile to disguise the humiliation and pain coursing through me.
At first glance, her big eyes were filled with worry, but at my smartass remark she snapped them away from me. Her entire body retracted, and I felt like I'd been shot all over again.
"Of course I remember your name." Disgust filled her tone. She stood, wiping at the grass on her knees before handing me one of my crutches.
"Thank you." I used the crutch to help me up, Kat giving me her shoulder to lean on. My leg was screaming, but being close to Kat was like a drug, numbing the pain. My face lingered close to her hair
and I couldn't believe it. "You still smell like cotton candy," I whispered in her ear as I inhaled more of her scent.
She jumped away from me, and her blue eyes widened. My balance swayed, but I managed to stay upright. It was hard to believe this was the same girl who used to snuggle into my chest and rain kisses
down my neck. Right now she was acting like I had the bubonic plague.
"Are you my aide?" Until I asked, I didn't realize how desperately I wanted her to be. Needed her to be. Every memory from our summer together was a kick to my stomach, knocking the wind right the
hell out of me.
She tucked a reddish-blond strand behind her ear, her fingers lingering on the pearl earring in her lobe. "I guess so, but I'll tell my manager to switch me for someone else."
I moved closer to her, resisting the urge to reach out and cup her cheek. The urge was stronger than anything I had ever felt. But I fought through the desire, keeping my hands to myself. "Why would you do that?"
"Because this isn't going to work?" How could it not work? There were many things I was unsure of, but one thing I knew for certain.
We were good together. "Why not?"
She didn't say anything, choosing to flash me an evil glare instead. Too bad for her the only thing that had an effect on was in my pants. Even in her anger she was gorgeous.
Her hair fell in soft curls on her shoulders, dipping dangerously close to the V of her scrub shirt.
Despite my best efforts, my gaze drifted to the crease. After an enjoyable few seconds of recalling all the times I got to see beneath her shirt, I glanced back up and looked deep into the blue depths of her eyes.
Kat had always been more than a body to me.
"It'll be just like old times," I said, hoping she would remember the best summer of my life.
Working the water slides, watching her from the highest point of the park as she sold cotton candy.
Meeting up behind the Blue Lagoon to make out. Having lunch at the Aqua Café, where we'd share a basket of fish-shaped fries and chicken fingers because as much as she loved them, she could never
finish them on her own.
A brokenness flashed across her face, the same expression I'd witnessed when she found out her mom had cancer. My heart ached for her all over again, especially since I'd left her at a time when she'd
needed me the most. But she never stopped me.
I told her to stop me.
She didn't.
"We could pick up where we left off. Go back to the way things were."
Long lashes blinked up at me. "That's what I'm afraid of."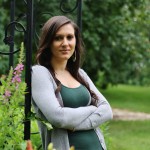 About the Author:
Theresa Paolo lives in the same town she grew up in on Long Island, NY with her long time boyfriend and their fish. Her debut novel (NEVER) AGAIN, a NA romance, released in Fall 2013 with Berkley (Penguin).
(ONCE) AGAIN will release this summer. She is also the coauthor of the Amazon bestseller KING SIZED BEDS AND HAPPY TRAILS and BEACH SIDE BEDS AND SANDY PATHS, a YA contemporary series, under her pen name Tessa Marie. She has a hard time accepting the fact she's nearing thirty, and uses her characters to relive the best and worst years of her life. She put her love of writing on hold while she received her Bachelor's Degree in Marketing from Dowling College. When she's not writing, she's behind a camera or can be found in the blogosphere or on Twitter, Pinterest and Facebook.