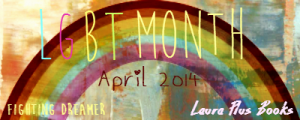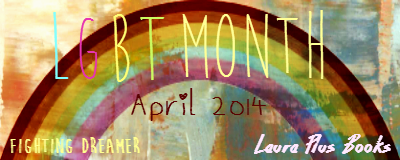 April isn't only the month of the A-Z Challenge, but is also LGBT+ month. Part of the LGBT+ challenge is to read an LGBT book and get people talking about it so here's my LGBT+ book review contribution…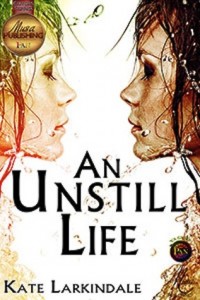 Things at home are rough for fifteen-year-old Livvie Quinn. Jules, her beloved older sister is sick again after being cancer free for almost ten years. Her mom becomes more frantic and unapproachable every day. School isn't much better. Just when she needs them most, her closest friends get boyfriends and have little time for Livvie – except to set her up on a series of disastrous blind dates.
Livvie seeks refuge in the art room and finds Bianca, the school 'freak'. Free-spirited and confident, Bianca is everything Livvie isn't. Shaken by her mom's desperation, her sister's deteriorating condition, and abandoned by her friends, Livvie finds comfort and an attraction she never felt before with Bianca. 
When their relationship is discovered, Livvie and Bianca become victims of persecution and bullying. School authorities won't help and even forbid the pair to attend the Winter Formal as a couple. If Livvie defies them and goes, she risks expulsion and further ridicule from her classmates. At home, her mother's behavior escalates to new levels of crazy and Jules is begging for help to end the pain once and for all. 
While searching for the strength to make her life her own, Livvie must decide how far she's willing to go for the people she loves.
My thoughts:
Months ago, the cover of this novel caught my eye and I added it to my TBR list without even reading the blurb. Later, I read the blurb and downloaded the Kindle version immediately. Despite not being a huge fan of contemporary YA, preferring to find LGBT themes in genre fiction, I couldn't wait to read this book.
This story made me incredibly angry: angry at a society that thinks they should control who people are allowed to love, angry at the adults in this novel who should've known better and angry at teenagers who can be exceptionally cruel and bigoted. There were many times I had to fight the urge to toss my Kindle across the room because what I really wanted to do was reach into the pages and smack some of these characters upside the head.
An Unstill Life is an emotional rollercoaster that had me giggling one page and close to tears the next.
This a beautifully written story dealing with a number of controversial issues. The author handled all of these with sensitivity and sincerity, making for a poignant if not always pleasant read given how this story shredded my heart every other page.
I strongly recommend this book to anyone looking for a contemporary issue-driven read, particularly to anyone looking for a lesbian coming-out story.
An Unstill Life is a great LGBT positive read and gets five ink splats from me.


Have you read any good LGBT+ books lately?