ALL I EVER WANTED, a new adult winter anthology!
Winterfest is heating up in Abbott Springs…
As the town's yearly festival kicks off, cold days turn into steamy nights, new flames will be ignited, and old romances will be rekindled.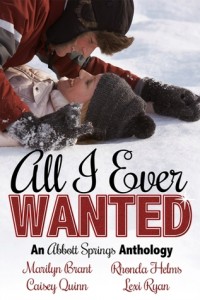 Amazon
All About Us by Marilyn Brant—All Sami Abbott ever wanted was permission to be herself. At home, she aims to be the perfect daughter but never measures up. At college, she's the bold girl who had a one-night stand with sexy musician, Alex Hamilton. When he arrives unexpectedly in Abbott Springs, her worlds collide and she must reconcile the girl she tries to be with the person she really is.
All I Need by Caisey Quinn—All pink-haired rocker chick Everly Abbott thought she wanted was acceptance in her straight-laced hometown. But her best friend and bandmate Justin Cohen is about to show her that what she thinks she wants isn't necessarily what she needs.
All for Love by Rhonda Helms—All Maya Monterey ever wanted was to belong. Happiest with the Abbott family, Maya's been secretly in love with sexy pastry chef Oliver Abbott for years. With a flirty new look, she'll pull out all the stops to get him to notice her. And if her plan fails, she'll walk away from the only home she's ever known—and Oliver—for good.
All or Nothing by Lexi Ryan—After years of placing the wrong bets, all Aubree Baxter wanted was someone to take a chance on her. Golden boy Kennedy Hale plays it safe in life and love, but to keep Bree in Abbott Springs, he'll have to go all in.
And now the authors answer a few questions…
ALL I EVER WANTED is a winter anthology, complete with sledding races, spiked hot cocoa, and ice skating. Are you a winter lover?
Marilyn: I grew up in Wisconsin and now live in Illinois, so I've had to make peace with shoveling snow and scraping ice away every winter, LOL, but I can't say I love the cold temps. I am very, very fond of hot cocoa (both spiked and unspiked), however, and I've always enjoyed ice skating and watching the Winter Olympics when they're on.
Caisey: I love winter clothes, but the actual cold part, not so much!
Rhonda: For the most part, yes! But usually when I'm inside, sitting by a deliciously roaring fire. lol. I hate being super cold, but I do enjoy making snowmen, sled racing, and ice skating. I also like taking outdoor pictures.
Lexi: Maybe I'd say yes if it were a sweltering Indiana summer out my door right now, but instead it's twelve inches of snow and negative windchills and I'm feeling like I really, really don't like winter. But I sure don't mind writing about it.
This anthology is really unique in that all the stories are connected and scenes from one story might appear in another. What was your favorite part about working on this anthology?
Marilyn: I loved the experience of getting to see a scene told in multiple viewpoints by our differing main characters. And it was fascinating to work so closely on a writing project with three authors whose stories I admire so much.
Caisey: Getting to see the many differences and similarities in each of our writing processes.
Rhonda: There was a community created by working so closely together that I've never experienced before. It really made me connected to my story and to the others. We were all vested in each other's novellas, which I loved.
Lexi: We spent a weekend in Louisville to really nail down some of the continuity issues on the anthology. We worked a lot, but we also laughed more than I think I've ever laughed in my life. We writers spend an awful lot of time in solitude. It was wonderful to laugh with people who "get" the business like you do..
What was the most difficult part about putting it together?
Rhonda: Oh, all those nitpicky touches, the back-and-forth exchanges of scenes, then going over and over and over it all to make sure we didn't mess up the timeline. FUN. lol
Marilyn: Yeah, Rhonda nailed it. There were a lot of details!
Caisey: What Rhonda said!
Lexi: To echo what Rhonda said…When we were in Louisville, we sat down at about 10am to start nailing down some of the details. We went page by page through each of our stories. "Oh, here your character says this." "No, he wouldn't change it quite like that. Change it to this." "What's Maya wearing that night?" "How would Kennedy be acting at the opening address?" Yes! Tons of details! But it was worth it to create what I think is a really unique product.
Obviously, a love of new adult romance brought you four together for this anthology. Name two of your favorite NA reads.
Marilyn: Aside from Lexi's, Caisey's, and Rhonda's stories, which are awesome, I've also really enjoyed The Edge of Never by J.A. Redmerski and Violet Duke's Resisting the Bad Boy.
Caisey: Oh gosh. There are so many good ones it's hard to pick just two! My two faves of 2013 were probably Escaping Me by Elizabeth Lee and Break It Up by E.M. Tippetts.
Rhonda: Well, I love all of my fellow anthology authors' works, lol. Seriously, they're brilliant–make sure to check them out. But if we go beyond those, I also adored EASY by Tammara Webber and TANGLED by Emma Chase. So good!
Lexi: Oh, yes, I echo what everyone else said. Read them first! Obviously we enjoy each other's work and that's why we decided to do this together. After them, definitely EASY by Tammara Webber and ONE WEEK GIRLFRIEND (well, the whole series) by Monica Murphy.