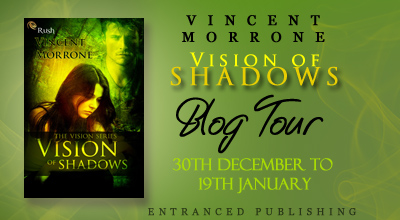 Today is my stop during the blog tour for Vision of Shadows by Vincent Morrone. Vision of Shadows is published by Entranced Publishing. This blog tour runs from 30 December till 19 January, you can view the whole tour schedule on Vincent Morrone his website.
Vision of Shadows (Vision #1)
by Vincent Morrone
Genre: Young Adult, Paranormal Romance
Release Date: December 30, 2013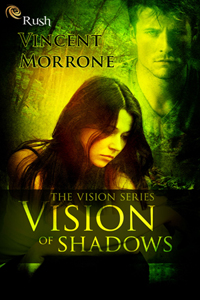 Blurb:
Is Bristol Blackburn about to meet the love of her life…or her killer?
After the death of her parents, Bristol Blackburn's life is thrown into chaos and she's forced to move to Spirit, a small town where shadows are stirring. As she learns to navigate her new school and figures out how to keep her psychic abilities secret from her family, Bristol comes face to face with the boy who makes a regular appearance in her dreams: the gorgeous, possibly deadly, Payne McKnight. Soon she'll find out if Payne will be the love of her life, or the end of it — and she has no idea which possibility scares her more.
And that's not even the worst of it. Strange shadows are haunting her dreams, and they're up to something that could put Bristol and the lives of everyone she loves in jeopardy.
You can add Vision of Shadows to your to-read list on Goodreads
You can find more about Vision of Shadows on the Entranced Publishing website.
Want to chat with Bristol, the main character of this series? Well she has her own twitter account.
Vision of Secrets (Vision #0.5)
by Vincent Morrone
Genre: Young Adult, Paranormal Romance
Release Date: December 2, 2013
Blurb: Bristol understands secrets. She's got plenty of her own, ranging from the annoying ghost that keeps showing up and attempting to sing Copacabana, (badly) to the visions of a terrifying future that is getting closer each day.
Bristol knows secrets can kill. She's getting flashes of a boy racked with guilt over his secret. And a girl who's prank might lead to someone's death.
Vision of Secrets is a free prequel introduces you to Bristol Blackburn before the explosive events in Vision of Shadows and let's you see how a young girl deals with her Visions of Secrets!
You can add Vision of Shadows to your to-read list on Goodreads
You can download Vision of Secrets for free from smashwords
Excerpt
"I've never met anyone like you before in my life," Payne said.
Now it was my turn to grin. "Yeah, girls who talk to ghosts are rather unique."
"That's not what I mean," Payne insisted. "You've never told anyone about your secret before, have you?"
I didn't answer, but I didn't need to.
"I cannot begin to tell you how touched I am," Payne said. "Not only that you're helping me, but also that you trust me. I know how big a deal it is."
"It's not." I shrugged. "Not really."
Now Payne touched my cheek, and my skin tingled underneath his fingers. "It is. Bristol, you're braver than I am."
I looked up into Payne's magnificently dark blue eyes and saw it. The emotion that I always saw in my Payne loves me dreams. It was the look in his eyes he got when we were making love, or at least would get if we ever did. There was a connection between us that went beyond anything I'd ever known. I knew Payne could feel it, too.
Payne brought his other hand up, gently caressing both sides of my face. In that moment there was no doubt he would kiss me. I was ready. I didn't care about anything else.
When I heard the laughter from behind me of a little boy, it took me a second to blink back into reality. I backed away, and Payne's face fell.
"We're not alone," I explained.
Jared McKnight had appeared, his little dog sitting obediently by his feet, its tail whipping back and forth. Jared had his hands by his eyes as if ready to cover them. A huge smile was plastered on his face.
"I can't believe Payne was gonna kiss a girl!"
I closed my eyes and sighed. Well, he was!
Vincent's Top Ten Superheroes!
In descending order!
#10 Superman
No Superhero list is complete without the Man of Steel. The first 2 Christopher Reeve movies were fantastic and I loved the Tom Welling TV show Smallville. I actually haven't had a chance to check out the last movie with that title, but I plan on it. Sure, the name Superman is a little corny in today's day and age, but let's be honest: he's a classic. As long as he doesn't say, "Up, up and away!"
#9 Green Lantern
Yes, it's another corny name, but there's something very cool about a power ring where the only limits are the limits of your imagination. The movie with Ryan Reynolds was fun, but not great. (Although he looked awesome!!) I'm hoping someone takes another stab and the emerald ring slinger!
#8 Captain Marvel
Very similar to Superman in his abilities, but with a much cooler name. As a kid, I loved the idea that I was special enough that the Gods would choose me to be a hero and I often would yell out Shazam just to see if they had finally gotten on with it. Okay, so I still do call it out even now at 42. Shazam!
#7 Batgirl
Why Batgirl? Because I can remember having a crush on Yvonne Craig as Batgirl from before I even started kindergarten. Her and Holly from Land of the Lost. Oh, and Cindy from the Brady Bunch. But neither of them are superheroes. So yeah, that original series was embarrassingly campy, but still. Pow, Bam, Zoom!
#6 Firestorm
Probably the least know hero on my list, Firestorm was two people who got cause in some sort of nuclear accident that had the ability to join together. High school student Ronnie Raymond and Professor Martin Stein. Ronnie controlled the body, but Dr. Stein would be a floating head he could talk to and get advice from. If one of them needed to turn into Firestorm, they both had their day ruined and that could mean that one had to run out of class or a meeting to avoid revealing their secret. Firestorm has the ability to rearrange the atomic and subatomic structure of inorganic matter, rearranging subatomic particles to create objects of different atomic characteristics of equal mass. Which was awesome in and of itself. Plus, instead of hair, he had a camp fire on top of his head. So wicked cool!
#5 Wonder Woman
I grew up with Wonder Woman played by Lynda Carter. Sure it was corny, but hey I was a kid. Mostly, my list is comprised of heroes that I personally identified with, with the exception of Bat Girl who was a crush. And while I probably had a crush on Wonder Woman, she's included here because I did grow up with her. And I always wished I could hitch a ride on that invisible jet of hers!
#4 Nightwing
Who? You know Batman? You know his sidekick, Robin? Well Nightwing was Robin, all grown up. Robin didn't want to live in Batman's shadow anymore. (How this is a thing for superheroes with secret identities, I don't know.) But the fact was, Robin wasn't cool, Nightwing was. Go Teen Titans!
#3 Batman
While Bat Girl made my list because of the campy TV show, Batman is here more because of the comic book. He was the ultimate for me. No super powers. Dark and dangerous. I loved the Michael Keaton and even more so the Christian Bale movies. (The Val Kilmer and George Clooney versions, not so much so. But that wasn't the fault of the actor. Rather I blame the director, Joel Schumacher for those embarrassments.) However, it was the Dark Knight of the comics that defined Batman for me.
#2 Spiderman
Probably the first superhero that I fell in love with. I adore Spiderman. His wisecracks, his powers, and unlike Superman who pretended to be a nerd in Clark Kent, Peter Parker was a true blue geek. And while I enjoyed the last movie with Andrew Garfield, the definitive on screen Spidey is Toby Maguire! I still love the idea of Spider Sense. And who wouldn't want webbing? I know I would. (Like my wife needs something else to yell at me for not cleaning up!)
#1 KISS
What now, you say? KISS? Why yes, KISS. Sure, they're a rock and roll band, but they're also superheroes. I've gone into the story more than once about how when I was 7, my Mom wanted me out of her hair for the night. I discovered them because of their superhero movie, KISS meets the Phantom of the Park. They even had 2 comics out. (Their first was printed in their own blood!) They've had action figures and even more comics since then. And since they were and still are the soundtrack of my life, they collectively get the #1 spot!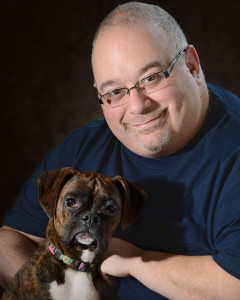 About the Author:
Born and raised in Brooklyn NY, Vincent Morrone now resides in Upstate NY with his wife. (Although he can still speak fluent Brooklynese.) His twin daughters remain not only his biggest fans, but usually are the first to read all of his work. Their home is run and operated for the comfort and convenience of their dogs.
Vincent has been writing fiction, poetry and song lyrics for as long as he can remember, most of which involve magical misfits, paranormal prodigies and even on occasion superheroes and their sidekicks.
As they say in Brooklyn: Yo, you got something to say to Vincent?
Check out http://vincentmorrone.com/ where you can learn about Vincent and leave him a comment. You can also connect with Vincent on Twitter https://twitter.com/Vince524 and Facebook https://www.facebook.com/Morrrone.
You can find and contact Vincent Morrone here:
– Website
– Facebook
– Twitter
– Goodreads
Vincent also participates in a group blog called YA Rush which consist of YA and NA Entranced authors. You can find YA Rush here:
– Website
– Facebook
– Twitter
– Pinterest
There is a tour wide giveaway for the blog tour of Vision of Shadows.
Here is what you can win:
– 1 Vision of Shadows Pen
– 1 Vision of Shadows Calender
– 1 Vision of Shadows Pen & calender
– 1 Vision of Shadows Pen and calender in a Vision of Shadows canvas bag
– 1 Vision of Shadows Pen, calender in Vision of Shadows canvas bag and an e-copy Vision of Shadows
Enter the rafflecopter below for a chance to win:
a Rafflecopter giveaway