It has been far too long since I did this Wednesday feature, so here it is…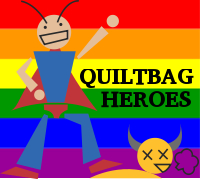 As a tween, I had a knack for falling completely in love with celebrities who turned out to be gay, like Stephen Gately, Darren Hayes and the actor who played one of my all time favourite doctors, Doogie Howser.
Neil Patrick Harris (June 15, 1973) is an American actor, producer, and director best known for the title role in Doogie Howser, M.D. and as the very straight playboy, Barney Stinson, in How I Met Your Mother. Harris was named as one of Time magazine's 100 most influential people in 2010 and was also awarded a star on the Hollywood Walk of Fame in September 2011.
"I am happy to dispel any rumors or misconceptions and am quite proud to say that I am a very content gay man living my life to the fullest and feel most fortunate to be working with wonderful people in the business I love," Harris said in 2006. In 2010, Harris and his long time partner, David Burtka, became proud fathers of fraternal twins by surrogate mother and, in 2011 as soon as same-sex marriage became legal in New York, the couple were married.
So why is Neil Patrick Harris a QUILTBAG hero? Because Harris represents something far too many people don't think is possible. He is a happily married gay man, father, and incredibly successful actor who is loved both within and outside of the LGBT community. Jarrett Barrios, president of the Gay & Lesbian Alliance of Defamation (GLAAD) told PopEater this, "As more and more loving and committed gay and lesbian couples start families together, it is important to see stories like Neil's that reflect what most fair-minded Americans already know: gay people and our families are no different than them. For many, Neil is the first gay person they've seen come out, fall in love and become a dad, and his story is helping Americans understand that gay people deserve the same opportunity to take care of our families and loved ones."
Harris represents normalcy. He is a husband, father and actor who just happens to be gay. This is an approach I really appreciate in an era when we are too easily labelled and defined by only one aspect of who we are.
What do you think of Neil Patrick Harris? Who is your hero?