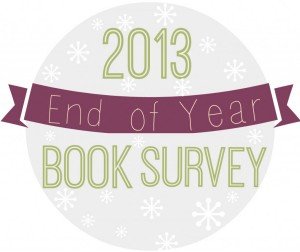 A huge thank you to Jamie over at The Perpetual Page-Turner for starting this survey.
While this year isn't quite over yet, I'd like to share with you some of my favourite books of 2013.
1. Best Book You Read In 2013? 
Best YA sci-fi: CODA by Emma Trevayne – this is one book that has just stuck with me, whose characters keep coming back to haunt me and whose sequel I just cannot wait to read!
Best YA fantasy: ASHES ON THE WAVES by Mary Lindsey – gah! Everything! Brilliant book!
2. Book You Were Excited About & Thought You Were Going To Love More But Didn't?
BETWEEN THE DEVIL AND THE DEEP BLUE SEA by April Genevieve Tucholke – I realise I'm quite a wimp when it comes to horror. I thought I could handle this one but it was a little too horrific for me.
3. Most surprising (in a good way!) book of 2013? 
FINDING HOME by Lauren K. McKellar – I rarely read contemporary YA and didn't expect to enjoy this story nearly as much as I did. I couldn't put this down!
4. Book you read in 2013 that you recommended to people most in 2013?
A tie between Coda and Ashes on the Waves

5. Best series you discovered in 2013?
THE RAVEN CYCLE by Maggie Stiefvater – I read the first book last year but wasn't convinced I'd get hooked into the series until I read The Dream Thieves this year. Now the wait for the next book is physically painful!
6. Favorite new author you discovered in 2013?
Emma Trevayne, Mary Lindsey, Alaya Dawn Johnson
7. Best book that was out of your comfort zone or was a new genre for you?
DEEPER WE FALL by Chelsea M. Cameron – I'm not a big contemporary or romance reader so this was a total departure from what I usually read.
8. Most thrilling, unputdownable book in 2013?
THE OCEAN AT THE END OF THE LANE by Neil Gaiman – I read it in less than 24 hours which is something that rarely happens for me.
9. Book You Read In 2013 That You Are Most Likely To Re-Read Next Year?
FORTUNATELY, THE MILK – I hardly ever reread books but this one was so much fun and so short, I'll definitely reread it when I need a laugh.
10. Favorite cover of a book you read in 2013?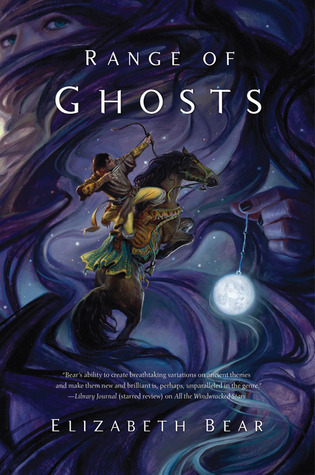 11. Most memorable character in 2013? 
ANTHEM from Coda and MORPHEUS from Splintered
12. Most beautifully written book read in 2013?
ASHES ON THE WAVES by Mary Lindsey
13. Book that had the greatest impact on you in 2013? 
PARROTFISH by Ellen Whittlinger
14. Book you can't believe you waited UNTIL 2013 to finally read? 
GRACELING by Kristin Cashore
15. Favorite Passage/Quote From A Book You Read In 2013? 
"A secret is a strange thing.
There are three kinds of secrets. One is the sort everyone knows about, the sort you need at least two people for. One to keep it. One to never know. The second is a harder kind of secret: one you keep from yourself. Every day, thousands of confessions are kept from their would-be confessors, none of these people knowing that their never-admitted secrets all boil down to the same three words: I am afraid.
And then there is the third kind of secret, the most hidden kind. A secret no one knows about. Perhaps it was known once, but was taken to the grave. Or maybe it is a useless mystery, arcane and lonely, unfound because no one ever looked for it.
Sometimes, some rare times, a secret stays undiscovered because it is something too big for the mind to hold. It is too strange, too vast, too terrifying to contemplate.
All of us have secrets in our lives. We're keepers or keptfrom, players or played. Secrets and cockroaches — that's what will be left at the end of it all."
— Maggie Stiefvater, The Dream Thieves
16.Shortest & Longest Book You Read In 2013?
Shortest: FORTUNATELY, THE MILK
Longest: THE POLARIS WHISPER by Kenneth Gregory
17. Book That Had A Scene In It That Had You Reeling And Dying To Talk To Somebody About It? (a WTF moment, an epic revelation, a steamy kiss, etc. etc.) Be careful of spoilers!
THE DREAM THIEVES by Maggie Stiefvater
18. Favorite Relationship From A Book You Read In 2013 (be it romantic, friendship, etc)?
Family: Iris and Sam from INFINITE SKY
Romantic: Anthem and Haven from CODA
Friendship: The cast of MY CHEMICAL MOUNTAIN followed closely by Gansey and crew in THE DREAM THIEVES
19. Favorite Book You Read in 2013 From An Author You've Read Previously?
THE DREAM THIEVES by Maggie Stiefvater and THE OCEAN AT THE END OF THE LANE by Neil Gaiman
20. Best Book You Read In 2013 That You Read Based SOLELY On A Recommendation From Somebody Else?
None :/
21. Genre You Read The Most From in 2013?
Fantasy, YA and Adult 
22. Newest fictional crush from a book you read in 2013?
Anthem from CODA, also Ronan from THE DREAM THIEVES and definitely Katsa from GRACELING
23. Best 2013 debut you read?
CODA by Emma Trevayne – I sense a pattern here
24. Most vivid world/imagery in a book you read in 2013?
CITY OF A THOUSAND DOLLS by Miriam Forster
25. Book That Was The Most Fun To Read in 2013?
FORTUNATELY, THE MILK
26. Book That Made You Cry Or Nearly Cry in 2013?
INFINITE SKY by CJ Flood
27. Book You Read in 2013 That You Think Got Overlooked This Year Or When It Came Out?
SKULK by Rosie Best
Those are some of my best reads. Which are yours?