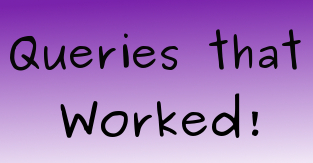 Good and bad news folks. The bad news is that I've run out of queries that worked to share. If you're an author with a query that landed you an agent or publishing deal and would like to share it, please let email me suzanne (at) suzannevanrooyen.com.
Recently I critiqued some queries over at Brenda Drake's blog so while I wait for the new queries that worked to roll in, I'm happy to offer my query critiquing services to anyone who's interested. The idea being that I share your query and my crit on the blog.
If you'd like me to crit your query, please email me at the above address with 'Query Crit' in the subject line. I will redact all personal information and the query will go up on my blog anonymously. I will send you the link once it's live and will be happy to answer any further questions you may have.
Please bear in mind, I am not a query expert. I've written a bunch of them not only while searching for an agent, but since finding an agent too, as every time we go on submission, we need a new query to send out to editors. Certain things seem to work, others don't, so I'm happy to share my subjective opinion on that matter, but that's all it is, my opinion.
I'll post the first query for critique this time next week and keep you updated with how many are in the queue. Happy querying!