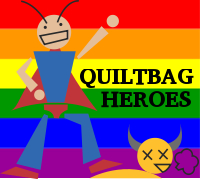 Today I'm pleased to welcome fellow author Christopher Hawthorne Moss to Off the Page sharing heroic LGBT tales about a very special historical figure.
Over to Kit…
Nadezhda Darova, Hero of the Napoleonic Wars
September 17, 1783 – March 21, 1866)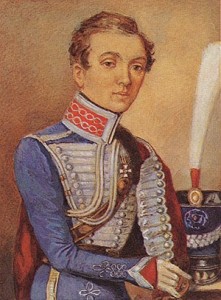 Women who have taken historic roles as men in time of war do it for a variety of reasons. For most it is simply the only way they can take up arms and serve in their country's military. For others it allows them to pursue career opportunities simply barred to women. In the case of the dashing officer of the Czar's cavvalry, it may have started out as a way to get out of an unhappy marriage, or allowed her to live as made the most sense to her. However it started for Nadezhda Andreovna Darova, it ended spectacularly.
Darova was born in an army camp near Kiev in 1783. Her father, a Major in the Czar's army, rescued her from her own mother, who had thrown her out the window of a moving carriage. Darova found a family of uncles in the soldiers in her father's command. From the start she was headstrong, playing with unloaded guns, broken sabers, and even secretly taming a stallion who had been deemed unbreakable.
There were few options for a young woman in imperial Russia, so Darova married and gave birth to a son in 1800. Author of one of the first autobiographies in the Russian language, The Cavalry Maiden, she never discussed her marriage or what made her leave it, but she disguised herself as a man, called herself Alexander Sokolov, and followed her fiercely patriiotic desire to be a soldier for the Czar.
In any of these stories of women who served as men one can only guess how they managed to hide their sex from other soldiers, but they did, perhaps taking advantage of the prim attitudes of the officer class of the time and place. In any case, Darova, as Sokolov, served in the light cavlary lancers, and pulled off two daring rescues. In one instance, when one of her fellow soldiers fell from his horse and sustained a concussion, she gave him first aid under heavy enemy fire. In another she used her lance to scatter three French dragoons about to fall on an officer and then let him take her horse to escape, risdking her own life.
Darova may have continued in her military career uninterrupted if not for her decision to send a letter to her family explaining why she had run away. Czar Alexander I got wind of the family's search for the "Amazon" fighting in the cavalry and invited her to court. Her reputation as a peerless soldier preceded her, and the Czar was so pleased with her and her choice of his name as her own that he gave her the Cross of St. George and promoted her to lieutenant in a Hussar unit. he rechristened her Alexander Alexandrov after himself.
Many years later the poet Alexander Pushkin encouraged her to publish her personal journall in 1836. This feat is remarkable not only as one of the first autobiographies in the Russian language but as one of few accounts by junior officers of the napoleonic wars in any language. She also wrote novels and, as the first female officer in Russian history, advocated for women's rights. She continued to wear men's clothing for the rest of her life. When she died in 1866 Darova was buried with full military honors.
Darova, who made her son refer to her as "parent", has been the subject of plays, an opera, and songs. Largely unknown in the rest of the world, her decision to live her life as an openly transgender person has made her more celebrated in academic circles in the West more recently.
See also Durova, Nadezhda, The Cavalry Maiden: Journals of a Russian Officer in the Napoleonic Wars trans. Mary Fleming Zirin. Indiana University Press, 1989. ISBN 0-253-20549-2 (see book reviews on Amazon.com).
***
Christopher Hawthorne Moss wrote his first short story when he was seven and has spent some of the happiest hours of his life fully involved with his colorful, passionate, and often humorous characters. Moss spent some time away from fiction, writing content for websites before his first book came out under the name Nan Hawthorne in 1991. He has since become a novelist and is a prolific and popular blogger; he is the historical fiction editor for the GLBT Bookshelf, where you can find his short stories and thoughtful and expert book reviews. He lives in the Pacific Northwest with his husband of over thirty years and four doted upon cats. He owns Shield-wall Productions and welcomes comment from readers sent to christopherhmoss@gmail.com.
What do you think of Nadezhda Darova? Who is your hero?