Summonari don't trust. Under their command, they summon any number of creatures from the Otherwolds—but never trust them outside of the summoning.
Gargoyles don't love. Fierce descendants of dragons, they function on power and fear—never love.
Karla isn't the happily-ever-after type of girl. No territory-hungry guy is going to stick flags all over her unclaimed grounds.
Kann's world is death and betrayal. As Dar Primus of Haus Varis, he's expected to follow tradition but he's not your regular gargoyle. In fact, he's anything but.
One fateful Friday night, Otherworlds collide. Stuck together in one world or another, Karla and Kann face everything from Awakenings and turbulent love to Festnavals and bloodthirsty scorned suitors.
If there's one thing they can't escape, it's the addiction to each other. And they've got it bad.
Excerpt from Chapter 1
George watched me like a hawk, something he'd been doing ever since I'd hit puberty. With some effort, my eyes tore away from the scary twin warriors on his date's chest.

G's brows furrowed. "Going home already, kids?"

Jerk. I stuck out my tongue and scowled—in a mature way, of course. It made him smile with something more than simple amusement. Ah, no amount of money was too much to have that memory erased by next morning. Being tipsy would help me get away with it. Somewhat.

Mike spoke up, my usual hero. "Well, Georgie, the club looks like a hit, huh?"

"Yes, Mikey, it does," his brother sneered.

They gave each other the famous Spalding death glare, a scary weapon they sometimes used on others but mostly one against the other. The almost palpable proof of their 'brotherly love' was as warm as gnawing bones. My giggle drew George's attention back.

The blonde was staring knives, so I smiled blindingly out of a pure desire to spite her. A pair of war-cannon-boobs wouldn't intimidate me, no matter how belligerent they looked. Her overly swollen lips twitched into something quite hard to understand. I frowned, studying the strange spasm thing going on. George snickered.

"You need to get her home, Mikey. Unless you'd like me to give you a ride, Karla?"

Oh yes, the war-cannon-breasted blonde would've loooved that.

"It's Mike's fault, so it's his responsibility. I think he put something in my drink, no doubt planning to have his way with me when he gets me home."

All three of us snickered, something of an inside joke that the blonde didn't get. Hopefully she didn't get how nervous my laugh was either. G's eyes were signaling trouble. Time to bolt, and I was amazing at bolting if nothing else.

"Okay, bye, G. Congratulations on the grand opening."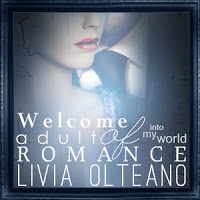 About the Author:
Livia lives in Europe where she listens to obscene amounts of music and devours every reading material in sight. When she's not doing either of the two, she fiddles with anything remotely customizable within reach.