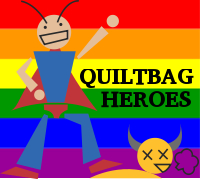 It's QUILTBAG HERO Wednesday here at Off the Page, a day celebrating QUILTBAG heroes and role models, a showcase of the amazing gay, lesbian, bi, trans*, queer/questioning, unisexed, intersexed and asexual people, real and fictional, who inspire us.
This week I've got something extra special in store. One of the best YA sci-fi books I read this year was a YA dystopian novel featuring a gay protagonist. Today, I am delighted to welcome the Alex London of PROXY to Off the Page sharing some insights into Syd.
Syd is one of the most unassuming main characters I've ever read. I can't say too much away about why he's a hero without stepping into spoiler territory, suffice it to say that having a character of colour who is also gay in the leading role in a YA science fiction book was delightfully refreshing. Syd is a complicated character and is quite far from being the typical superhero. He's the underdog, the least likely hero in fact and that's probably why he stole my heart.
Alex London, author of Proxy, was kind enough to answer a few questions for me…
1. Which character traits do you think are the most important for a hero to have?
I've never really understood heroes. Selflessness, which I think is their most important trait, does not come naturally to most people. I'm more interested in people who are called upon to be heroes when they themselves are not sure they're capable (or even willing). Heroism is entirely contextual. I don't think it exists as an innate character trait, but as a response to events. Some people respond heroically when called upon and some do not. Sometimes, the same person does this. People are not consistent creatures.
2. Do you think Syd considers himself a hero? Why?
I think Syd does not consider himself at all heroic. He's trying to maintain his humanity in an inhumane world. In that sense, he is entirely self-interested. But he has an impulse toward selflessness, which others bring out in him. His struggle with that impulse informs much of his character's arc in Proxy.
3. Syd is gay – did you deliberately choose to include an LGBTQ character in your story?
It wasn't deliberate. He actually surprised me by coming out early in the writing process, but once he did, I knew it was the right choice. It made so much sense for his character. And for me, it was a joy to write that kind of character. As a gay man myself, one who loves action & sci-fi, I was rather tired of the straight hero and the quest to 'get the girl' at the end. I wanted to see a hero whose sexuality did not limit them to the role of sidekick or 'issue' character. When I was younger, I would have thrilled to see a character like Syd in this kind of story. While it wasn't the point of writing him, I like to believe he's part of a larger cultural moment, in which no one aspect of your identity limits the kinds of stories you get to see yourself in.
4. How have readers reacted to a gay and non-white MC? Do you think reader reception would be different were Syd a stereotypical, straight, white hero?
The reaction has been great so far (with the requisite few gripes on Goodreads and Amazon). I think there is a real hunger for diversity in these sorts of stories, for imaginary worlds whose inhabitants look more like the world teenagers actually live in, not a convention for aspiring J Crew models. I can't imagine Syd as a straight white boy hero. It just wouldn't be the same book at all. I like to think I could write that version well, but it would not be this book. Oddly, I think it would also be a tougher sell. The marketplace for YA fiction is crowded and, for good or ill, Syd makes Proxy stand out. I like to think so does the quality of the book itself, but if I'm being honest, people are taking note because Syd does not look like other YA heroes.
5. What would you like to see more of in terms of diversity in YA genre fiction?
More of it! I want to see trans heroes and gay heroes and complex straight heroes and heroes of every color. I want to see so much of it that there is no question that a book with a diverse cast of characters will find a market, will be a simple fact of the YA landscape. I think identity always matters, so I do not want to see ethnicity and sexuality reduced to meaninglessness. I want to see them elevated to the point where straight and white are not the assumed characteristics of every protagonist.
What do you think of Syd? Who is your hero?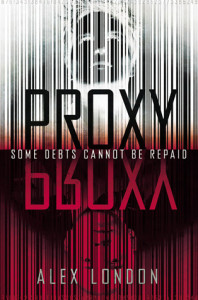 Knox was born into one of the City's wealthiest families. A Patron, he has everything a boy could possibly want—the latest tech, the coolest clothes, and a Proxy to take all his punishments. When Knox breaks a vase, Syd is beaten. When Knox plays a practical joke, Syd is forced to haul rocks. And when Knox crashes a car, killing one of his friends, Syd is branded and sentenced to death.
Syd is a Proxy. His life is not his own.
Then again, neither is Knox's. Knox and Syd have more in common than either would guess. So when Knox and Syd realize that the only way to beat the system is to save each other, they flee. Yet Knox's father is no ordinary Patron, and Syd is no ordinary Proxy. The ensuing cross-country chase will uncover a secret society of rebels, test both boys' resolve, and shine a blinding light onto a world of those who owe and those who pay. Some debts, it turns out, cannot be repaid.