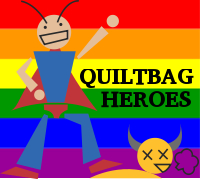 It's QUILTBAG HERO Wednesday here at Off the Page, a day celebrating QUILTBAG heroes and role models, a showcase of the amazing gay, lesbian, bi, trans*, queer/questioning, unisexed, intersexed and asexual people, real and fictional, who inspire us.
This week I'd like to introduce to an amazing woman who has conquered some of the most inhospitable places on earth and campaigns for equality.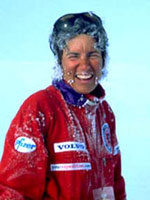 Ann Bancroft (b. September 29, 1955) is an American adventurer – who was the first woman to successfully finish several arduous expeditions to both the Arctic and Antarctic – as well as an author and teacher.
Ann is a hero for so many reasons. She grew up in St. Paul Minnesota, where, despite struggling with a learning disability, graduated from school to become a wilderness instructor, YMCA Camp instructor and gym teacher. In 1986, Ann quit teaching to join the Will Steger International North Pole Expedition. She became the first woman to reach the North Pole on foot and by dogsled. As if that isn't impressive enough, Ann also went on to become the first woman to cross both polar ice caps to reach the North and South Poles. She was also the first woman to ski across Greenland!
In 1993 Ann led an all-woman expedition to the South Pole on skis and in 2001, Ann and Norwegian adventurer Liv Arnesen, became the first women to ski across Antarctica! But Ann doesn't just go skiing across remote parts of the globe for fun. In 2007, Ann and Liv Arnesen took part in a trek across the Arctic Ocean to raise awareness for global warming. Ann's activism doesn't end there either. As an out and open lesbian, Ann has publicly campaigned against marriage inequality, particularly in her home state of Minnesota.
Ann is the epitome of a strong and independent woman, more than worthy of being called a hero.
What do you think of Ann Bancroft? Who is your hero?