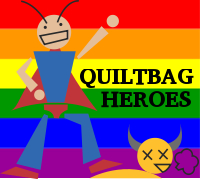 It's QUILTBAG HERO Wednesday here at Off the Page, a day celebrating QUILTBAG heroes and role models, a showcase of the amazing gay, lesbian, bi, trans*, queer/questioning, unisexed, intersexed and asexual people, real and fictional, who inspire us.
This week I'd like to introduce you to a man who has overcome a lot in his life to be where he is today…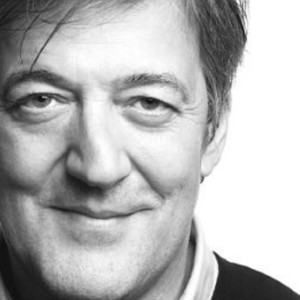 Stephen Fry is an English actor, screenwriter, author, playwright, journalist, poet, comedian, television and radio presenter, film director, and activist.
Stephen had a troubled childhood and got expelled from two schools for various shenanigans. He did a three month stint in prison for credit card fraud before he went to Queen's College to study English Literature.
It was at university that Fry finally got his life on track and met Hugh Laurie (better known as Dr. House) and formed a comedic duo. Since then, Fry has had several acting roles from BBC's Blackadder to American crime procedural Bones and the dystopian thriller V for Vendetta. 
Fry identifies as 90% homosexual, and has been attracted to women. Despite keeping his sexuality a secret as a teen, when asked when it all began, Fry had this to say: "I suppose it all began when I came out of the womb. I looked back up at my mother and thought to myself, 'That's the last time I'm going up one of those.'"
Fry is out-spoken with regards to his view on politics, LGBT rights and religion, and has been known to ruffle local and international feathers with his comments in interviews and on Twitter. In 2012, Fry wrote the foreword to the Union of UEA Students report on the student experience for LGBT+ members. For his public support of LGBT+ rights, the Union of UEA Students awarded him Honorary Life Membership of the Union on 18 October 2012. Most recently, Stephen Fry has issued public support for LGBT activists in Russia following the country's recent ban on 'gay propaganda.' You can read more about there here.
Fry has not only stood up for the LGBT community but also for those suffering with mental illness. Diagnosed with bipolar disorder, Fry has survived two suicide attempts and has since confronted his own mental illness in the Emmy-award winning documentary Stephen Fry: The Secret Life of the Manic Depressive, which features experiences from other celebrities, like Robbie Williams, also suffering with mental illness.
Stephen Fry is one of my QUILTBAG Heroes for not only overcoming his own personal battles, but for being willing to take on others', offering support to those in need, regardless of political and popular sentiment.
What do you think of Stephen Fry? Who is your hero?