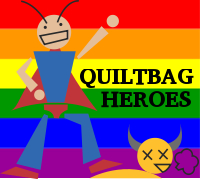 It's QUILTBAG HERO Wednesday here at Off the Page, a day celebrating QUILTBAG heroes and role models, a showcase of the amazing gay, lesbian, bi, trans*, queer/questioning, unisexed, intersexed and asexual people, real and fictional, who inspire us.
Sadly, I missed last week's hero because I was traipsing around the Norwegian fjords. This week I present to you a most amazing, humourous, generous and lovely lady…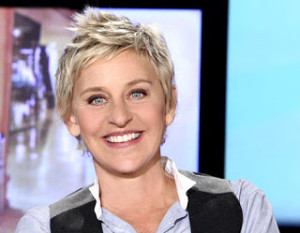 Ellen DeGeneres. Ellen is more than just that quirky lady with her own talk show who interviews celebrities. She is more than just a stand-up comedian and actress.
In 1997, Ellen came out as lesbian, which immediately controversy and media interest, not least because of her relationship with openly bisexual actress, Anne Heche. Although initiall shocked, Ellen's mom has become one of her daughter's strongest supporters and is an active member of Parents & Friends of Lesbians and Gays and a spokesperson for the Human Rights Campaign's Coming Out Project. Since 2004, Ellen has been in a relationship with Portia de Rossi and the two got married in California as soon as the same-sex marriage ban was overturned in 2008.
Ellen not only speaks out on LGBT rights, but is also an advocate for veganism and various animal rights groups as well as being named special envoy for Global Aids Awareness by Hilary Clinton in 2011. Ellen also regularly shows her support for all things QUILTBAG on her talk-show, where she has hosted various members of the LGBTQ community, not least of all teens fighting against homophobia and discrimination, bullying and intolerance.
Ellen DeGeneres is an amazing lady and definitely one of my QUILTBAG heroes.
What do you think of Ellen? Who is your hero?