Time for a cover reveal! This one's for an NA contemporary novel due for release August 30th by R. D. Cole.
And now for the cover…. Drumroll please….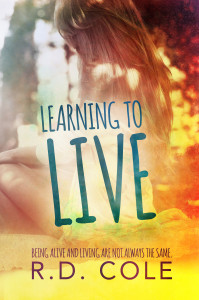 Being alive and living are not always the same.

Trudy Love is used to being on her own and has rarely been shown affection. Between growing up in foster care and her abusive boyfriend she has no idea what life can be. At 19 she goes through something no one should ever experience and is left alone once again. Six months later she moves to Mobile, Alabama where she meets someone whose eyes bring back memories of the one person she misses everyday. Too late she finds herself caught in a storm of emotions that are unwanted, but she's determined to fight them off.

Jaxon Coleman has a good life, and for him to attend one of the finest Med schools in the country and follow in his dad's foot steps is a dream come true. However, dreams can change in life and when he meets Trudy he knows his will never be the same. Jax knows she has secrets she is unwilling to share, but he's never given up on something he wants and he wants Tru.

Can Trudy stop resisting her feelings and welcome the chance to live a different life than she pictured or will her defiance and haunted past eventually take her out of Jax's reach?

After tragedy living is not easy, but with the right person it can be learned.