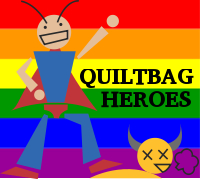 Today marks the start of a new feature here at Off the Page. Wednesdays will now be dedicated to QUILTBAG heroes and role models, a showcase of the amazing gay, lesbian, bi, trans*, queer/questioning, unisexed, intersexed and asexual people, real and fictional, who inspire us.
Kicking off today's launch, I'd like to introduce you to an amazing woman and the first openly lesbian head of government on the planet!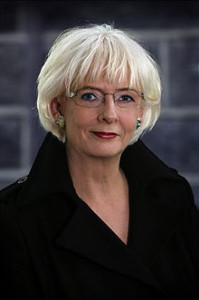 Jóhanna Sigurðardóttir (4 October 1942) has been a member of the Althing (Iceland's parliament) for Reykjavík constituencies since 1978, winning re-election on no less than eight successive occasions! After serving as Iceland's Minister of Social Affairs and Social Security from 1987–1994 and 2007–2009, she became Iceland's first female Prime Minister and the world's first openly lesbian head of government on 1 February 2009. This marked a major milestone, for women and all QUILTBAG individuals.

Jóhanna is a social democrat and Iceland's longest-serving member of Parliament. In 2010, Jóhanna married her long time partner, becoming one of the first same-sex couples to get married in Iceland. That same year, her government banned strip clubs, paying for nudity in restaurants, and other means of employers profiting from employees' nudity. "The Nordic countries are leading the way on women's equality, recognizing women as equal citizens rather than commodities for sale." Jóhanna said, which earned her quite a following in feminist circles, and Iceland being dubbed the most feminist country in the world. When asked what the most important gender issue is today is, Jóhanna answered, "To fight the pay gap between men and women." No wonder Forbes listed her among the 100 Most Powerful Women in the world in 2009.
Jóhanna is a truly inspirational figurehead not only of progressive politics, but for human rights in a world that often treats QUILTBAG people as second class citizens. In September 2012, Jóhanna announced she would not seek re-election and retired from politics.
What do you think of Jóhanna? Would you like to see more QUILTBAG'ers as heads of government?