Today I'm please to welcome teen blogger, Ollie Lambert, to Off the Page.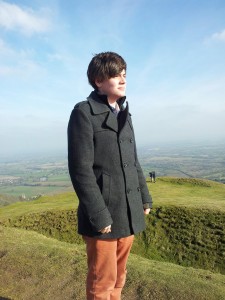 Movellas   Twitter    Facebook    Facebook Page    Website
1. Tell us a little about yourself. Who is Ollie Lambert?
I am currently a music scholar at St Edmund's School Canterbury. I was a chorister at Canterbury Cathedral for five years, and was appointed Deputy Senior Chorister in final year. The highlight of my time as a chorister was touring to the East Coast of America in 2009 where I sang one of the two solo parts in Allegri's Misereri in Washington National Cathedral, in front of 2000 people.
My favourite school subjects apart from Music, and English, are Maths, Geography and Graphic Products. I joined a creative writing workshop, which has developed my love of poetry in particular.
I love creative writing and spend much of my spare time writing poetry (100 or so poems to date). I am a member of a website called Movellas, which is designed to encourage young writers, and my poem entitled 'Walking' won second prize in their international poetry competition in October. (See portfolio). I am very IT literate. My interest in writing has led me to set up a blog to help other aspiring writers, which involved contacting journalists and published authors for their advice. I have just won the Movellas 'Best on Social Media' award for 2012 for this, and last month was interviewed about my writing by The Guardian, for an article due to be published imminently.
 2. What made you decide to start blogging? 
I began to get interested in writing as a profession, asking people like Jordan what sort of things publishers are looking for.  From what I gathered, nowadays if you have a wide fan base prior to contacting a publisher it doesn't mean you will succeed in getting your work published, but it may help.  I already had/have over 120 fans on the site, with some of my work reaching nearly 10, 000 views, but I had read somewhere that having a twitter account based on my writing hobby, might bring my work to a wider audience. I created one (@Ollie_Lambo if you're interested) to see if this was true. I followed a couple of publishers and writers on twitter, and a lot of them followed me back. I don't think this made a huge impact on my writing itself – I have 400+ followers on twitter now, but I have only made contact with about 20 of them. However, of course the conversations I have had with these writers about how one gets work published have been enlightening, and so, thanks originally to Movellas,  I began to feel part of a community with a shared interest. This is important, because writing is essentially a very private activity and it is easy to feel isolated.
I decided I wanted to share the information I was collecting, as I thought there must be other teenagers out there looking for advice on how to get published. This is when I created my blog, which includes writing tips, interviews not only with established authors and journalists, but also young writers, just starting out. It also contains some book reviews of mine, just so that people can get a taste of my writing and evaluation style.. Obviously the site is in its early stages and needs to be developed further, but it shows that Movellas has been a source of inspiration, both in my writing and in motivating me to think about the process of writing itself. It is also a very reliable site, and my parents are happy for me to be using it, as it is run by a team of people who oversee it very closely, to make sure it is not open to misuse. They are easy to contact, are interested in user feedback and always respond to messages. There is no doubt, when I compare the first poems I wrote to more recent ones, that Movellas has improved my writing, and I think this is largely because it provides the spur simply to keep on writing. A music teacher once told me 'An amateur practices until he gets it right, but a professional practices until he cannot get it wrong.' I think that is true of creative writing, too.
3. What inspired you to start writing?
Believe it or not, before Movellas I had never really thought of creative writing as something worth my time. It all started last summer, in the holidays.  I was at home with nothing to do, so decided to try my hand at some creative writing – a sort of spur of the moment thing. I had sort of done creative writing before, but only as school work. I enjoyed myself, writing the first couple of chapters of what turned out to be a romance novel. It got to the point where I really wanted some feedback on my writing,  but I knew that if I was to ask family or friends for their opinion, it might be biased.
A good friend of mine who wants to pursue creative writing as a career had told me about the site before and how she enjoyed sharing her writing on there and getting honest feedback. I decided to make an account and try my luck. If other members liked my story, then it would give me the confidence to carry on writing as a hobby, and if they didn't like it, well, there would be no harm done, but it would be good to be writing for a real audience.
4. Do you think your musical background influences your writing at all and if so, in what way? 
I'd like to think my music does have something to do with the way I write, after all they are both creative activities. I suppose that because I had written lyrics before to go with my songs, I had a sort of head-start to the world of writing poetry. I still think of music as my main skill and the subject that I want to develop into my future career, however creative writing seems to have over taken my musical life. I am doing far more writing than composing now, and I don't know whether this is a bad thing, or whether this means my true talent lies in journalism and creative writing.
5. Tell us a bit about movellas.com and the people you've met there.
Movellas is a fantastic site that I would recommend to anyone. Especially teenagers who enjoy writing in their spare time, and want to get feedback and improve their skills. Most of the people on their I find very motivational, and give me good feedback. However, as with any writing site, you will always get the ones who are not so helpful when it comes to constructive criticism. It is also a brilliant opportunity to offer feedback to others who want/need it. If you leave them a constructive comment then they are bound to go and read some of your work and do the same for you.
Some 'or' questions:
1. Board games or video games?
Ooh, am I allowed to say both? (If not then probably board games…)
2. Ebook or hard copy?
Hard copy
3. Beethoven or Chopin?
Chopin
4. Sonata or Concerto?
Sonata
5. Reading or writing?
Writing
Thank you Ollie for joining us today. I wish you every success with your music and writing! 
Please feel free to ask Ollie any questions – he'll be stopping by to answer.