Today I am thrilled to welcome LGBT author Richard Pearson to Off the Page chatting about his recently agented novel The Role and all things writerly.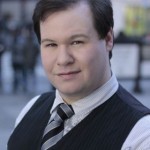 Richard Pearson grew up in Little Rock, Arkansas. As a child he consistently performed, often without request, for anyone who would listen to him. He eventually found his audience, and spent most of his years in high school rehearsing various plays and musicals. At Rhodes College, Richard took numerous courses in theatre and creative writing (though his major was Sociology) and has never stopped writing or performing since graduating in 2004. Aware that he had to pay the bills somehow, Richard worked as a paralegal for many years, but eventually decided (thanks to his husband's loving encouragement) to attend law school in 2007. After graduating from Rutgers School of Law in 2010, Richard passed both the New York and New Jersey state bar exams. He currently practices from his home in Hoboken, New Jersey.
Richard is represented by the incredibly talented Literary Agent Eric Ruben.
His Twitter handle is: @PEART10
Find him online here, which includes a sneak peak at the first chapter of "The Role." 
1. Tell us in 150 words or less, who is Richard Pearson?
Richard Pearson is the kind of guy who feels awkward referring to himself in third person. I grew up in Little Rock, Arkansas, where I discovered several things about myself. Most notably that I'm gay, am terrible at math, and I thrive the most when being creative. I wrote stories a lot as a kid, and took fiction courses at Rhodes College. After graduating, I moved back to Arkansas and met my amazing husband. We moved to Houston and later Hoboken where we still live. I attended Rutgers School of Law, graduated in 2010, & passed both NY and NJ bar exams. However, I was unable to find a job, so I spent my time finally writing the novel I'd wanted to read my whole life. I now have a day job, perform in shows in NYC, and, of course, continue to write LGBT Fiction.
2. You have a background in stage performance, do you think this has influenced your writing, and if so, how?
Definitely! I mean the best thing about being an actor is that you can get "into character." Since my novel is in first person, I basically saw the story unfold through my character's eyes. It made it easier to give my character a voice that was distinct and different from my own.
From a craft standpoint, being an actor means I've spent a lot of time with dialogue. So writing dialogue comes easy to me. In fact every bit of dialogue in the book has been said aloud by me several times. It's definitely the part of writing the comes easiest to me. Sometimes, if I felt like the prose was getting in my way, I'd write out the dialogue as if it was a play. I would then go back and fill in the details. I'd even act out the dialogue in my little study sometimes. That way I could feel how the characters interact with each other. It was fun, but I'm sure if anyone saw or heard it, they would think I was insane.
3. You're also an attorney – when do you find the time to write? Do you follow a set schedule or just write when you can?
Well when I wrote my novel, "The Role", I was unemployed for the most part. So after applying for jobs in the morning I kept to a pretty strict writing schedule. My word count goal was 1,500 words a day, five times a week. If I was struggling I'd allow myself to quit after 1,250, but that was the bare minimum for me. I also made sure to read other writers for an hour each day, I learned a lot from that.
Now that I have a day job my daily writing goals are smaller. I'm still figuring out what my new routine will be, but I don't mind it at all. I'm lucky to love my day job almost as much as writing.
4. Tell us what being an LGBT author means to you.
So I have to be an attorney right now and point out that question could mean two things.
What is it like to be an author who is LGBT? What is it like to be an author of LGBT Fiction? Fortunately, the answer to "What is it like to be an author who is LGBT?" is easy. I personally feel it doesn't mean anything different. The only exception being, there is an expectation that I will be able to write about the LGBT world with some authority. It's similar to using my experience as an actor to write about the "actor life" with some authority.
The other question is a bit more complex. What does it mean to me to be an author of LGBT Fiction? It means I finally have a chance to tell the stories I wanted to read. When I finally read my first LGBT novel, I felt like I was no longer alone. Growing up in the south, gay men were less visible than they are in the big city. Though I'm proud to say the gay men of Little Rock Arkansas are some of the best and proudest members of the LGBT community I have ever met. However, even after coming out, it wasn't easy to figure out how to talk to other gay men. I've always been chatty, and as an actor I didn't get nervous when talking to people very often. However, the first time I spoke to an openly gay guy I was attracted to I completely froze up. In many novels, this happens as well, so when I read others share this experience, I felt both relieved and happy. I hope when people read my stuff, they might feel that too.
5. Tell us about The Role and what inspired this novel.
The Role follows the journey of Mason Burroughs, an actor exhausted by years of constant rejection. Just as he is thinking of abandoning acting forever, his life changes when he lands a role that could make him the next big Broadway star. However, throughout the rehearsal process, his director and co-star pressure him to make compromises that cause him question how much of himself he is willing to give up, in order to realize his dream.
The inspiration for my novel? Honestly, I was tired of waiting for someone else to write it. The theatre world is dominated by gay men, so I just assumed it was a story that had been written countless times, but when I started looking into it, I found out I was wrong. So I decided it was up to me. In college, some of my fondest memories were coming home from rehearsal and telling my friends about all the crazy things that happened that night. I wanted to tell a story that really showed readers that there is this whole other life of a show going on backstage.
6. What would you like to see more of in LGBT fiction?
I'd like to see more LGBT Fiction that explores life after all the coming out has happened. Characters who have already accepted their sexuality, but are going through life and overcoming other conflicts. For example, I'd love to write (or read) a novel about a same-sex couple trying to have a baby with a surrogate.
That said, I still enjoy reading novels that explore what the coming out process is like nowadays. I've been out for over a decade, and I did it before facebook, twitter, and grindr existed. So I enjoy reading about that too. I just also want to read about other aspects of LGBT life.
7. Is there anything else you'd like readers to know?
Other than thanking you for interviewing me? I guess I'd just like to say, I'd love it if LGBT fiction readers encouraged their friends to read more. I always love it when people recommend a good LGBT novel to me, and it doesn't happen nearly enough.
Now just choose one:
1. Winter or summer? Summer (provided there is A/C)
2. Chocolate or vanilla? Vanilla
3. Good book or good movie? Good Book (though honestly "good play" wins over both of those.)
4. Dogs or cats? Dogs
5. Going out or staying in? Staying in (unless it's a Saturday night!)
Thank you Richard! I'll be featuring Richard's query that worked in July in my regular Saturday 'Queries that Worked' slot. Hopefully by then, he'll have some more good news to share about The Role.
Do you read LGBT fiction? What would you like to see more of?